Online Marketing Heroes: Interviews with 25 Successful Online Marketing Gurus
ISBN: 978-0-470-24204-9
336 pages
March 2008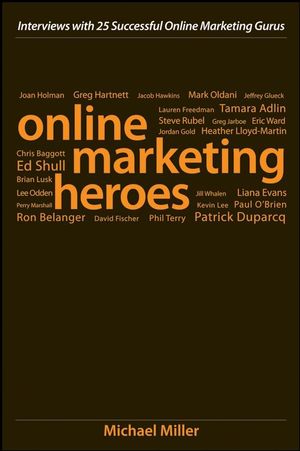 Suppose you could sit down with 25 of the most successful online marketing pros in the business and just talk shop. Suppose that included PR people, copywriters, direct marketing gurus, consultants. Suppose you could get input from the creative cubicle-dwellers as well as executives managing multimillion-dollar marketing firms. You could learn proven skills and techniques that would revolutionize your marketing efforts. That discussion is packaged in these pages. Whether you re a veteran marketing professional or a novice entering the field, you can t afford to miss this wisdom.
See More
Introduction.
1. Joan Holman: Joan Holman Productions.
2. Greg:Hartnett: Best of the Web, Hotel Hotline.
3. Jacob Hawkins: Overstock.com.
4. Mark Oldani: Circuit City Direct.
5. Jeffrey Glueck; Travelocity.
6. Lauren Freedman: the e-tailing group.
7. Tamara Adlin: Aldin, Inc.
8. Steve Rubel: Edelman.
9. Greg Jarboe: SEO-PR.
10. Eric Ward: Link Marketing Consultant.
11. Jordan Gold: Freedom.
12. Heather Lloyd-Martin: SuccessWorks.
13. Chris Baggott: Compendium Software.
14. Ed Shull: NetResults.
15. Brian Lusk: Southwest Airlines.
16. Lee Odden: TopRank Online Marketing.
17. Jill Whalen: High Rankings.
18. Liana Evans: KeyRelevance.
19. Perry Marshall: Perry S. Marshall & Associates.
20. Kevin Lee: Didit.
21. Paul O'Brien: Zvents.
22. Ron Belanger: Yahoo!
23. David Fischer: Google.
24. Phil Terry: Creative Good.
25. Patrick Duparcq: Kellog School of Management, Northwestern University.
See More
Michael Miller is a former marketer and a prolific writer who has authored more than seventy-five books over the past two decades. He is known for his casual, easy-to-read writing style and his ability to explain a wide variety of complex topics, and his books have sold more than a million copies. Visit Michael at www.molehillgroup.com, where you'll also find access to his several blogs.
See More