The Purpose of Boys: Helping Our Sons Find Meaning, Significance, and Direction in Their Lives
ISBN: 978-0-470-24337-4
Hardcover
272 pages
April 2009, Jossey-Bass
US $26.95

Add to Cart
This price is valid for United States. Change location to view local pricing and availability.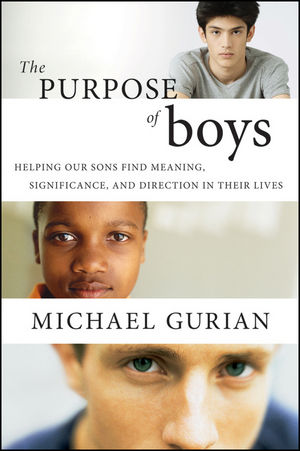 Acknowledgments.
Introduction: what do you want to be, son?
Competing Purposes.
What Is the Purpose of Boys?
We Who Care for Boys and Men.
Part One: Understanding the Purpose of Boys.
1 The Loss of Purpose in American Boyhood.
Why Parents Want to Provide Purpose for Boys.
Moving Forward with New Vision.
2 How Little Boys Develop Their Sense of Purpose.
The Empathy of Boys.
Brain Differences Between Boys and Girls.
How Boys and Girls Need Purpose Differently.
Your Little Boy's Need to Save the World.
Asking the Deep Questions of Boys.
3 How Adolescent Boys Seek Their Purpose in Life.
The Young Seeker Among the Primitive and the Civilized.
How Adolescent Boys and Girls Seek and Develop Purpose Differently.
What Motivates Different Boys.
Helping Our Sons Seek Respect in Adolescence.
Moving Forward with a Map in Hand.
4 Son, You Are My Hero.
The Heroic Son.
The Story of Joseph.
The Story Ends, for Now.
Par Two: Helping Our Sons Find Their Purpose in Life.
5 Creating Families of Purpose for Boys.
Creating a Three-Family System: The Parent-Led Team.
The Development of a Boy's Sense of Destiny in the Family System.
The Ten Values Tool.
The Value of Teaching Sexual Purpose.
Helping Our Sons Find Purposeful Work.
Helping Boys Find Purpose in Their Media Use.
A Boy's Search for Freedom.
6 Creating Communities of Purpose for Boys.
The Loss of Communities of Purpose for Boys.
What the Community Can Do for Our Sons.
Forming Purposeful Communities for African American Boys.
Changing Helping Professions to Focus on Boys' Needs.
Enjoying Communities of Purpose with Boys.
7 Changing Schools Toward Relevance and Purpose for Boys.
How Boys Are Struggling for Purpose in School.
Fixing the Mismatch Between Schools and the Purpose of Boys.
Investing in Schools of Purpose.
8 Creating and Providing Rites of Passage for Your Son.
Guiding a Son Through Male Adolescence.
Developing Your Own Rite-of-Passage Programs.
The "Here I Am" Rite-of-Passage Program.
The Power of Purposeful Men.
Epilogue: Coming Together to Advocate for Boys.
Notes and Resources.
Bibliography.
Appendix: Rite-of-passage Programs.
The Gurian Institute.
The Author.
Index.