The Forex Options Course: A Self-Study Guide to Trading Currency Options
ISBN: 978-0-470-24374-9
218 pages
December 2008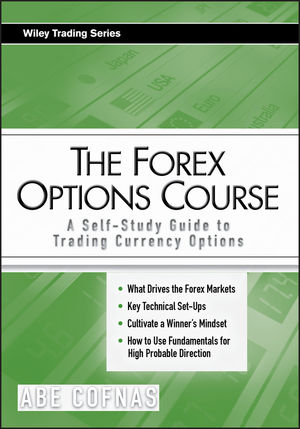 The Forex Options Course is a practical, hands-on guide to understanding and trading forex options. Designed to build a trader's knowledge base in a step-by-step manner, this reliable resource moves from the straightforward to the more sophisticated with discussions of everything from basic plain vanilla calls and puts to intriguing first-generation exotic binary options. Written in a straightforward and accessible style, The Forex Options Course will help you develop the skills and strategies needed to succeed in today's dynamic forex market.
See More
Foreword.
Preface.
Acknowledgments.
About the Author.
Part One. Key Option Elements.
Chapter 1. The Elements of an Option Trade.
Plain Vanilla Options.
Purchasing an Option.
Writing an Option—Beginners Don't.
Elements of an Option Trade or Ticket.
The Greeks.
Summary.
Chapter 2. What Affects Forex Option Prices?
Time.
Volatility.
Summary.
Part Two. Forex Market Drivers.
Chapter 3. Finding Direction for Your Forex Option Trade.
The Importance of Interest Rate Expectations.
How to Anticipate the Direction of the FOMC.
How to Use Housing Sector Data for Developing Forex Option Trade Direction.
Evaluating Real Estate ETFs.
Summary.
Chapter 4. Tracking Fundamental Directions.
Using Currency Targeted ETFs to Determine If the Market Is Dollar Bearish or Bullish.
Diagnosing Global Economic Conditions.
Group Currencies by Purchasing Power Parity (PPP) (Big Mac Index).
Tracking the Currency-Commodity Connection.
The Currency Outlook Checklist.
Summary.
Part Three. Timing the Trade with Technical Analysis.
Chapter 5. Chart Patterns and Trade Entry.
Chart Patterns and How to Use Them.
Scanning for Volatility.
Summary.
Chapter 6. Using Experts to Shape Trading Decisions.
Forecasting Accuracy.
Professional Sources of Expert FX Opinion.
Follow the Housing Prices.
Follow the Think Tanks.
Follow the Bank Forecasts.
Summary.
Part Four. Forex Options Strategies.
Chapter 7. Vanilla, Spreads, and Volatility Strategies.
Plain Vanilla Strategies.
Currency Pair Spreads: Playing the Correlations.
Commodity Currency Spread Strategies.
Carry Trade Option Strategies.
Trading Delta Call/Put Ratios.
Trading Vega or Volatility.
Gamma Spread Trading.
Key FX Option Combinations and Components.
Summary.
Chapter 8. Binary Option Strategies.
What Is a Binary Option?
Using Exotics to Derive Market Sentiment.
Combining Binary Options with Plain Vanilla and Spot Trading.
Summary.
Chapter 9. Option Strategies for Extreme Outcomes and Scenarios.
Recession in China or Continued Boom
Option Trading to Play Carry Trades with Hedge – Putting on Collars
$1000+ Gold and $200+ GOLD.
Trading $Oil Shock ($200) in FX Options.
Play a US Stagflation and Inflation.
Preemptive Attack on Iran.
Recovery of Housing.
Summary.
In Conclusion: Putting It All Together.
Achieving Optimal Forex Option Trading Fitness.
Forward Testing Your Forex Option Trading Fitness.
Where to Trade Forex Options.
Appendix. Selected Futures Columns.
Index.
See More
Abe Cofnas has been the forex trading columnist for Futures magazine since 2001. He also formed Learn4x.com—one of the first Web-based interactivetraining sites devoted to forex trading—in 2001, and currently manages aglobal forex trading team and call room at www.fxdimensions.com. He is founder of www.currencygames.com, a global forex currency game company that combines challenges and training. Cofnas is head forex coach at www.secretsofforextraders.com and the author of The Forex Trading Course (Wiley).
See More
More in this series
Learn more about