E-book
Invest Like a Dealmaker: Secrets from a Former Banking Insider
ISBN: 978-0-470-24578-1
224 pages
January 2008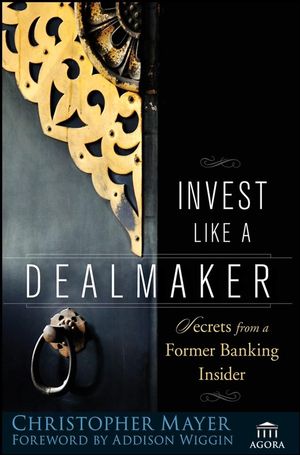 Invest Like a Dealmaker outlines an approach to investing that is far removed from what most investors have been conditioned to believe, but which has produced consistent profits for its practitioners decade after decade. While the concepts covered are not well known by the average investor, they are well appreciated by Wall Street insiders and dealmakers—particularly those who think about stocks as whole companies, as things with real assets, and cash flows that exist in the real world.
See More
Foreword ix
Acknowledgments xv
Chapter 1: A Tale of Two Markets 1
Chapter 2: T he Dealmaker's Toolbox 29
Chapter 3: Creating Wealth—Or What Makes Stocks Rise 55
Chapter 4: H unting Grounds 69
Chapter 5: T he Cracks and Crevices of Investment Wisdom 105
Chapter 6: When to Sell 161
Chapter 7: On Doing the Wrong Thing 169
Chapter 8: Small Questions, Big Opportunities 197
Notes 203
Index 211
See More
Christopher Mayer began his careerin banking—specifically, corporate lending—also earning an MBA with a concentration in finance. He later started writing Capital & Crisis (www.agorafinancial.com/dealmaker.php), a monthly newsletter that gave Mayer's unique brand of financial commentary a more regular and expanded format. Over the years, his views on financial matters have appeared in a number of highly regarded publications. Mayer is a frequent guest on radio programs across the country and has been featured as an expert on globally syndicated networks such as Fox News and CNBC.
See More