Strategies for Reducing Drug and Chemical Residues in Food Animals: International Approaches to Residue Avoidance, Management, and Testing
ISBN: 978-0-470-24752-5
344 pages
September 2014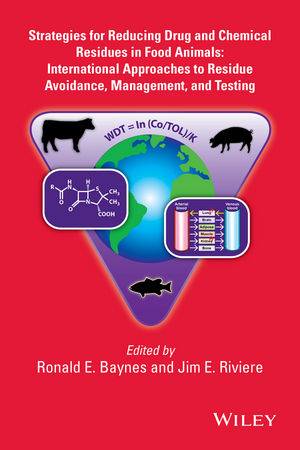 Highlighting international approaches; the book details strategies to minimize contamination, residue monitoring programs, and classes of drugs and chemicals that pose contaminant risk in livestock.
Focuses attention on drug and chemical residues in edible animal products
Covers novel computational, statistical, and mathematical strategies for dealing with chemical exposures in food animals
Details major drug classes used in food animal production and their residue risks
Highlights efforts at harmonizing and the differences among areas like US, EU, Canada, Australia, South America, China, and Asia, where the issue of chemical exposures has significant impact on livestock products
Ties veterinary clinical practice and the use of these drugs in food animals with regulatory standards and mitigation practices
See More
Preface vii
Contributors ix
1 Importance of Veterinary Drug Residues 1
Ronald E. Baynes and Jim E. Riviere
2 Pharmacokinetic Principles for Understanding Drug Depletion as a Basis for Determination of Withdrawal Periods for Animal Drugs 9
Sanja Modric
3 Evaluation of Drug Residue Depletion in the Edible Products of Food-Producing Animals for Establishing Withdrawal Periods and Milk Discard Times 35
Dong Yan
4 Establishing Maximum Residue Limits in Europe 49
Kornelia Grein and Isaura Duarte
5 Methods to Derive Withdrawal Periods in the European Union 65
G. Johan Schefferlie and Stefan Scheid
6 Population Pharmacokinetic Modeling to Predict Withdrawal Times 81
Sharon E. Mason
7 Physiologically Based Pharmacokinetic Modeling 95
Jennifer Buur
8 Residue Avoidance in Beef Cattle Production Systems 115
Virginia Fajt and Dee Griffin
9 Residue Avoidance in Dairy Cattle Production Systems 137
Geof Smith
10 Residue Avoidance in Aquaculture Production Systems 161
Renate Reimschuessel
11 Residue Avoidance in Small Ruminant Production Systems 193
Kevin Anderson and Reha Azizoglu
12 Residue Avoidance in Swine Production Systems 221
Ronald E. Baynes and Glen Almond
13 Confirmatory Methods for Veterinary Drugs and Chemical Contaminants in Livestock Commodities 233
Hui Li
14 The Food Animal Residue Avoidance Databank: An Example of Risk Management of Veterinary Drug Residues 289
Thomas W. Vickroy, Ronald E. Baynes, Lisa Tell and Jim E. Riviere
15 Risk Management of Chemical Contaminants in Livestock 303
Ronald E. Baynes and Jim E. Riviere
Index 313
See More
Ronald Baynes is a Professor of Pharmacology and Director of the Center of Chemical Toxicology Research and Pharmacokinetics at the College of Veterinary Medicine at North Carolina State University and Fellow, American Academy of Veterinary Pharmacology and Therapeutics He has consulted for the National Institute of Environmental Health Sciences, the US Environmental and Protection Agency, and National Institute of Occupational Safety and Health on chemical exposure-related topics.

Jim Riviere is The MacDonald Chair in Veterinary Medicine and University Distinguished Professor at Kansas State University. He is an elected member of the Institute of Medicine of the National Academies, serves on its Food and Nutrition Board, and is a fellow of the Academy of Toxicological Sciences.
See More