The Last Word and the Word after That: A Tale of Faith, Doubt, and a New Kind of Christianity
ISBN: 978-0-470-24842-3
336 pages
April 2008, Jossey-Bass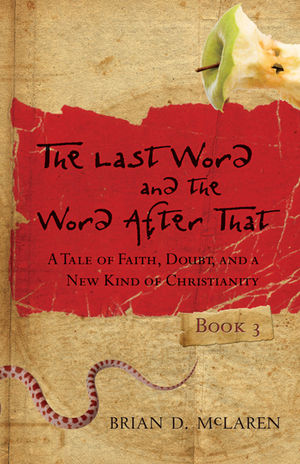 For all those seeking more authentic ways to hold and practice Christian faith, Brian McLaren has been an inspiring, compassionate—and provocative—voice. Starting with the award-winning A New Kind of Christian, McLaren offered a lively, wide-ranging fictional conversation between Pastor Dan Poole and his friend Neil Oliver as they reflected about faith, doubt, reason, mission, leadership, and spiritual practice in the emerging postmodern world. That conversation widened to include several intriguing new characters in the sequel, The Story We Find Ourselves In, as Dan and friends continued to explore faith-stretching themes from evolution to evangelism, from death to the meaning of life. Now, in this third installment of their adventures, Dan and his widening circle of friends grapple with conventional Christian teachings about hell and judgment and what they mean for our relationship with God and each other. Is there an alternative to the usual polar views of a just God short on mercy or a merciful God short on justice?  Could our conflicted views of hell be symptoms of a deeper set of problems – misunderstandings about what God's justice and mercy are about, misconceptions about God's purpose in creating the world, deep misgivings about what kind of character God is and what the Christian gospel is for?
See More
Preface to the Paperback Edition.
Acknowledgments.
Introduction.
book one The Last Word.
1. Something Serious.
2. Flare-Up.
3. Poet in a Trench Coat.
4. Party in the Living Room, Torture in the Basement.
5. Playing Hardball.
6. I Don't Know.
7. The Architecture of the Bible.
8. The First Two Threads.
9. The Third and Fourth Threads.
10. The Scapegoat Factor.
11. Better Than We Realized.
12. Something like a Straight Answer.
13. End in Embrace?
14. Piano Lessons and Lumpy Hands.
15. You Have a Tough Job.

16. All over the Map.
17. Deconstructing Hell.
18. Proposal, Plan, Implementation.
19. Homework Assignment.
book two The Word After That.
20. How Can I Hurt Him?
21. Nice Walleye Fishing Charters.
22. Wolves in Lawyers' Tuxedos.
23. Up Toward the Stars.
24. A Colorful Breakfast.
25. A New Kind of Christianity.
26. Second Thoughts.
27. To God, All Are Alive.
28. A Part of Me at the Core of My Mind.
29. The Last, Best Word.
Commentary.
The Author.
See More
Brian D. McLaren is a speaker, author, activist, and networker exploring the intersection of Christian faith and contemporary life. He has written or co-written over a dozen books, including A Generous Orthodoxy, The Secret Message of Jesus, and Everything Must Change. For twenty-four years he served as the founding pastor of Cedar Ridge Community Church in the Washington-Baltimore area. He was named by Time magazine as one of America's twenty-five most influential Evangelicals. He is a founding member of emergentvillage.com. See www.brianmclaren.net.
About the Leadership Network
The mission of Leadership Network is to identify and connect innovative church leaders and provide them with resources in the form of new ideas, people, and tools. Contact Leadership Network at www.leadnet.org.
See More