Mastering Active Directory for Windows Server 2008
ISBN: 978-0-470-24983-3
768 pages
June 2008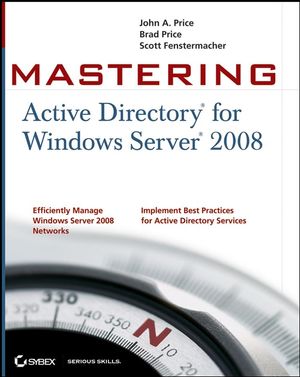 Find all the information you need to manage and maintain Active Directory in Mastering Active Directory for Windows Server® 2008, an in-depth guide updated with over 300 pages of new material. Revised to address the new components, enhancements, and capabilities brought by Windows Server 2008 to the directory services, this book covers domain name system design, Active Directory forest and domain design, maintaining organizational units, managing group policy, implementing best practices, and more. Expect high-level coverage of the new version of Microsoft's powerful user authentication and authorization tool, fully updated for Windows Server 2008.
See More
Introduction.
Part 1: Active Directory Design.
Chapter 1: Active Directory Fundamentals.
Chapter 2: Domain Name System Design.
Chapter 3: Active Directory Domain Services Forest and Domain Design.
Chapter 4: Organizing the Physical and Logical Aspects of AD DS.
Chapter 5: Flexible Single Master Operations Design.
Part 2: Active Directory Object Management.
Chapter 6: Managing Accounts: User, Group, and Computer.
Chapter 7: Maintaining Organizational Units.
Chapter 8: Managing Group Policy.
Chapter 9: Managing Active Directory Security.
Part 3: Active Directory Service Management.
Chapter 10: Managing Access with Active Directory Services.
Chapter 11: Managing Active Directory Rights Management Services.
Chapter 12: Managing Active Directory Certificate Services.
Chapter 13: Managing the Flexible Single Master Operations Roles.
Chapter 14: Maintaining the Active Directory Database.
Part 4: Active Directory Best Practices and Troubleshooting.
Chapter 15: Microsoft's Troubleshooting Methodology for Active Directory.
Chapter 16: Troubleshooting Problems Related to Network Infrastructure.
Chapter 17: Troubleshooting Problems Related to the Active Directory Database.
Part 5: Streamlining Management with Scripts.
Chapter 18: ADSI Primer.
Chapter 19: Active Directory Scripts.
Chapter 20: Monitoring Active Directory.
Chapter 21: Managing Active Directory with PowerShell.
Appendix A: The Bottom Line.
Index.
See More
John A. Price
is the Lead Architect for a Microsoft Gold consulting firm in the Midwest. He has 11 years of experience with several Microsoft products, specializing in Active Directory, Exchange Server, and the System Center line of products.
Brad Price is an MCT with 16 years of experience in the IT field, specializing in Active Directory, Exchange Server, Systems Management Server, and Operation Manager. He is the author of several books on Active Directory.
Scott Fenstermacher is an MCSE/MCDBA/MCSD, also with 16 years of experience in IT, in areas such as programming and scripting, database design and programming, and Windows and Linux network management.
See More
Learn more about