Guidelines for Process Safety in Bioprocess Manufacturing Facilities
ISBN: 978-0-470-25149-2
Hardcover
225 pages
November 2010
US $110.00

Add to Cart
This price is valid for United States. Change location to view local pricing and availability.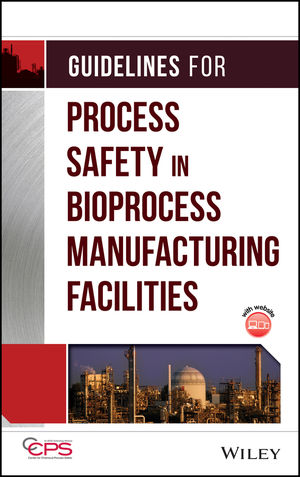 Other Available Formats:
E-book
List of Tables.
List of Figures.
Items on the Web Accompanying This Book.
Acknowledgements.
Preface.
1. Introduction.
1.1 Bioprocess Engineering Information Transfer and Management Practices.
1.2 The Need for Bioprocess Safety Management Systems.
1.3 Our Target Audience.
1.4 How to use this Guideline.
2. An Overview of the Bioprocessing Industry.
2.1 Bioprocessing s History.
2.2 Industrial Applications.
2.3 The Bioprocess Lifecycle.
3. Bioprocessing Safety Management Practices.
3.1 Sample Approach.
3.2 Existing Management Systems.
3.3 Establishing a Bioprocess Safety Management System.
3.4 Biosafety Training for the Workforce.
3.5 Investigating Incidents.
3.6 Managing Change.
3.7 Reviewing and Auditing for Continuous Improvement.
3.8 Applying Behavior-Based Safety to Bioprocesses.
4. Identifying Bioprocess Hazards.
4.1 Key Considerations for Assessing Risk to Manage Bioprocess Safety.
4.2 Bioprocess Risk Assessment.
4.3 Recombinant Organisms.
4.4 Cell Culture.
5. Bioprocess Design Considerations and Unit Operations.
5.1 Physical Plant Design.
5.2 Bioprocess Unit Operations.
6. The Effects of Emerging Technology on Bioprocessing Risk Management.
6.1 Researching and Staying Informed.
6.2 Communicating the Impacts of New Technology.
Appendix A References & Selected Regulations.
Appendix B Large Scale Biosafety Guidelines.
Appendix C A Generic Laboratory/Large Scale Biosafety Checklist.
Appendix D Biological Assessment Questionnaire & Bioprocess safety Checklist.
Appendix E Bioprocess Facility Audit Checklist.
Appendix F Directive 2000/54/EC of the European Parliament and of the Council.
Appendix G Comparison of Good Large Scale Practice (GLSP) and Biosafety Level (BL) Large Scale (LS) Practice.
Glossary.
Acronyms and Abbreviations.
Index.