Chemistry Workbook For Dummies
ISBN: 978-0-470-25152-2
360 pages
August 2008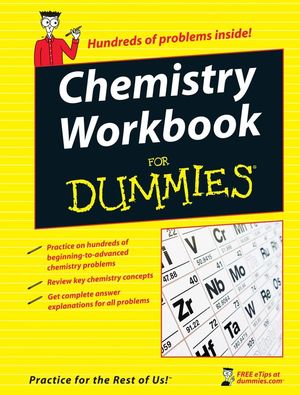 From liquids and solids to acids and bases - work chemistry equations and use formulas with ease
Got a grasp on the chemistry terms and concepts you need to know, but get lost halfway through a problem or, worse yet, not know where to begin? Have no fear - this hands-on guide helps you solve many types of chemistry problems in a focused, step-by-step manner. With problem-solving shortcuts and lots of practice exercises, you'll build your chemistry skills and improve your performance both in and out of the science lab. You'll see how to work with numbers, atoms, and elements; make and remake compounds; understand changes in terms of energy; make sense of organic chemistry; and more!
100s of Problems!
Know where to begin and how to solve the most common chemistry problems
Step-by-step answer sets clearly identify where you went wrong (or right) with a problem
Understand the key exceptions to chemistry rules
Use chemistry in practical applications with confidence
See More
Introduction 1
Part I: Getting Cozy with Numbers, Atoms, and Elements 7
Chapter 1: Noting Numbers Scientifically 9
Chapter 2: Using and Converting Units 21
Chapter 3: Organizing Matter into Atoms and Phases 33
Chapter 4: Surveying the Periodic Table of the Elements 49
Part II: Making and Remaking Compounds 63
Chapter 5: Building Bonds 65
Chapter 6: Naming Compounds 85
Chapter 7: Managing the Mighty Mole 97
Chapter 8: Getting a Grip on Chemical Equations 111
Chapter 9: Putting Stoichiometry to Work 125
Part III: Examining Changes in Terms of Energy 141
Chapter 10: Understanding States in Terms of Energy 143
Chapter 11: Obeying Gas Laws 151
Chapter 12: Dissolving into Solutions 163
Chapter 13: Playing Hot and Cold: Colligative Properties 175
Chapter 14: Exploring Rate and Equilibrium 187
Chapter 15: Warming Up to Thermochemistry 201
Part IV: Swapping Charges 213
Chapter 16: Giving Acids and Bases the Litmus Test 215
Chapter 17: Achieving Neutrality with Equivalents, Titration, and Buffers 227
Chapter 18: Accounting for Electrons in Redox 239
Chapter 19: Galvanizing Yourself into Electrochemistry 249
Chapter 20: Doing Chemistry with Atomic Nuclei 263
Part V: Going Organic 271
Chapter 21: Making Chains with Carbon 273
Chapter 22: Seeing Isomers in Stereo 289
Chapter 23: Moving through the Functional Groups 301
Part VI: The Part of Tens 319
Chapter 24: Ten Formulas to Tattoo on Your Brain 321
Chapter 25: Ten Annoying Exceptions to Chemistry Rules 327
Index 333
See More
Peter Mikulecky
grew up in Milwaukee, an area of Wisconsin unique for its high humanto-cow ratio. After a breezy four-year tour in the Army, Peter earned a bachelor of science degree in biochemistry and molecular biology from the University of Wisconsin–Eau Claire and a PhD in biological chemistry from Indiana University. With science seething in his DNA, he sought to infect others with a sense of molecular wonderment. Having taught, tutored, and mentored in classroom and laboratory environments, Peter was happy to find a home at Fusion Learning Center and Fusion Academy. There, he enjoys convincing students that biology and chemistry are, in fact, fascinating journeys, not entirely designed to inflict pain on hapless teenagers. His military training occasionally aids him in this effort.
Katherine (Kate) Brutlag has been a full-fledged science dork since she picked up her first book on dinosaurs as a child. A native of Minnesota, Kate enjoys typical regional activities such as snow sports and cheese eating. Kate left Minnesota as a teen to study at Middlebury College in Vermont and graduated with a double major in physics and Japanese. Seeking to unite these two highly unrelated passions, she spent a year in Kyoto, Japan, on a Fulbright scholarship researching Japanese constellation lore. Kate was quickly drawn back to the pure sciences, however, and she discovered her love for education through her work at Fusion Academy, where she currently teaches upper-level sciences and Japanese.
Michelle Rose Gilman is most proud to be known as Noah's mom. A graduate of the University of South Florida, Michelle found her niche early, and at 19, she was working with emotionally disturbed and learning-disabled students in hospital settings. At 21, she made the trek to California, where she found her passion for helping teenagers become more successful in school and life. What started as a small tutoring business in the garage of her California home quickly expanded and grew to the point where traffic control was necessary on her residential street.
Today, Michelle is the founder and CEO of Fusion Learning Center and Fusion Academy, a private school and tutoring/test prep facility in Solana Beach, California, serving more than 2,000 students per year. She is the author of ACT For Dummies, Pre-Calculus For Dummies, AP Biology For Dummies, AP Chemistry For Dummies, GRE For Dummies, and other books on self-esteem, writing, and motivational topics. Michelle has overseen dozens of programs over the last 20 years, focusing on helping kids become healthy adults. She currently specializes in motivating the unmotivated adolescent, comforting their shell-shocked parents, and assisting her staff of 35 teachers.
Michelle lives by the following motto: There are people content with longing; I am not one of them.
Brian Peterson remembers a love for science going back to his own AP Biology class. At the University of San Diego, Brian majored in biology and minored in chemistry, with a pre-med emphasis. Before embarking to medical school, Brian took a young adult–professional detour and found himself at Fusion Learning Center and Fusion Academy, where he quickly discovered a love of teaching. Years later, he finds himself the science department head at Fusion and oversees a staff of 11 science teachers. Brian, also known as "Beeps" by his favorite students, encourages the love of science in his students by offering unique and innovative science curricula.
See More