E-book
Who Said So?: The Questions Revolutionary Businesses Ask That Make Them Successful
ISBN: 978-0-470-25716-6
208 pages
April 2008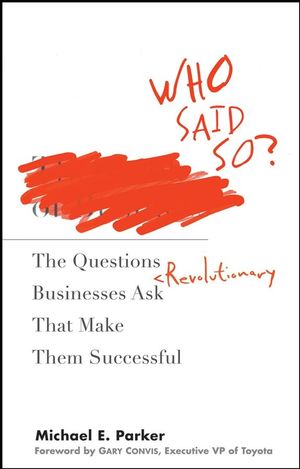 In Who Said So?, Michael Parker introduces you to the unique leadership philosophy known as Value-Centered Management. Using the exciting, creative format of a business narrative, the book contrasts the familiar pains of traditional business management with Value-Centered Management by contrasting the opposing style of father and son managers. Following this enlightening business tale, you'll learn how to focus your business on what your customers truly value—and how to turn that into new business and profit.
See More
Forerword. By Gary Convis.
Introduction.
Chapter 1. Is This As Good As It Gets?
Chapter 2. Isn't There A Better Way?
Chapter 3. How Can I Be Sure To Deliver What My Customers Value?
Chapter 4. When's The Last Time I Had My Heart Checked?
Chapter 5. Lean Management Is For Manufacturing, Right? Wrong.
Chapter 6.Finally a Structure that puts the Customer Where They Belong, at the Top.
Chapter 7. From A Traditional Organization To A Value-Centered Organization; Now, How Do You Stay Healthy?
Chapter 8. How Some Companies Just Keep Getting Better.
Epilogue.
See More
Michael E. Parker is President and CEOof Stellar Enterprise. Previously, he worked for Toyota, implementingLean principles through-out the company's North American operations. He frequently delivers seminars on Lean management to companies outside of the manufacturing arena and is the founder of the Value-Centered Management Institute.
See More