Encyclopedia of Human Resource Management, Volume 3, Critical and Emerging Issues in Human Resources
ISBN: 978-0-470-25771-5
352 pages
April 2012, Pfeiffer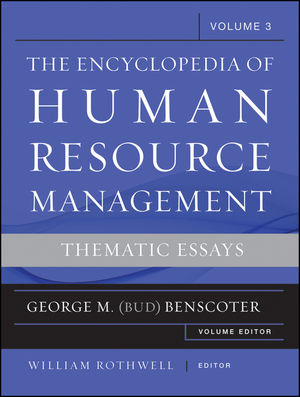 Human resource management is a vital function of any organization, at the nexus of business practice, psychology, and law. This one-of-a-kind and all-in-one print and online encyclopedia offers access to information on all manner of topics and issues related to the "people" side of business. Volume 3 provides a summary of Employment Law, Labor Relations, and Human Resources Laws and Practices from around the world, key primary documents, and links to citations to law in the natural language of the country. For professionals in human resource management, the Encyclopedia will be a handy reference. For students, researchers, and educators, it will be a first stop on the way to more in-depth research. For entrepreneurs, managers, and employees, it will serve as an essential introduction and practical guide.
See More
Introduction to Volume Three xi
PART ONE: LEADERSHIP AND LEARNING 1
1. Best Practices in Leadership Development 3
Curtis D. Curry
2. Applying Learning and Organization Development Principles to Specific Organizational Contexts: The Higher Education Development Experience 23
Shelda Debowski
3. Improving the Customer Learning Experience with Web-Interactive Guides 34
Kaliym Islam
4. Leadership Is Going Global 43
Rainhart Lang and Irma Rybnikova
5. Web 2.0 Applications in Corporate Training 54
M.J. Hall and Manuel London
6. High-Octane Leadership: An Essay to HR Professionals for Leading with Impact 66
Craig M. McAllaster and Lisa Lobao Junkerman
7. The Social Construction of Productive Organizations: Understanding the Leadership Moments of Everyday Talk 75
Thomas J. Yannuzzi
8. Leadership Versatility 90
J. Preston Yarborough and Michael A. Beitler
PART TWO: STRATEGY AND MEASUREMENT 99
9. Aligning Stakeholder Goals in a Measurement Project 101
Boyce Byerly
10. Strategic Business Partner Role: Defi nition, Knowledge, Skills, and Operating Tensions 112
David W. Jamieson, Sue Eklund, and Bob Meekin
11. Human Resource Metrics: A Contemporary Approach to Managing Human Capital 129
Tracy H. Porter and Sharon E. Norris
12. The Eight Ps of Healthy Workplace Design 137
Kimberly S. Scott
PART THREE: THE EVOLUTION OF HUMAN RESOURCES 159
13. The HR Transition to Strategic Partner: The Rarely Discussed Identity Challenges 161
John Sherlock
14. Reorganization of HRM—Past, Present, and Future 173
Peter M. Wald and Rainhart Lang
15. Workplace Bullying: What Can Be Done to Prevent and Manage It? 181
Sara Branch, Jane Murray, and Sheryl Ramsay
16. Myths and Realities in Human Capital Development: Generation Gaps in the Workplace 197
Scott Cody, Wendy Green, and Doug Lynch
17. Lost Wisdom, Lost ROI: Causes, Consequences, and Strategies to Mitigate Failed Global Mobility Programs 210
Edwina R. Haring
18. The Role of HR in Fostering Innovation in Organizations 226
James M. Higgins
19. Overtime Addiction: Causes, Consequences, and Cures 238
Eric C. Jackson and Peg Thoms
20. The Convergence and Divergence of HRM Across Nations: Cultural and Institutional Influences 252
Rainhart Lang and Peter M. Wald
21. Closing Critical Skills Gaps: The Case for Engagement in Regional Workforce Development Initiatives 264
Pamela Loughner
22. Employee Engagement and Corporate Social Responsibility (CSR) 274
Philip H. Mirvis
23. Human Resource Transformation: The Internal Consulting Role 287
Dayle A. Savage
24. The Implications of Situational Strength for HRM 298
Reeshad Dalal and Rustin Meyer
Contributors 307
Name Index 317
Subject Index 329
See More
William J. Rothwell
, Ph.D., SPHR, professor of Workforce Education and Development, Department of Learning and Performance Systems, Pennsylvania State University and president of Rothwell and Associates, Inc. He is the author, coauthor, or editor of over 60 books and hundreds of articles and book chapters on human resource management, training, and development.
George M. (Bud) Benscoter, Ph.D., is Senior Associate at Quanovia, Inc., a performance consulting firm, and has served on the graduate faculties of Penn State, Wharton, Duke and George Washington.
See More
Buy Both and Save 25%!
Encyclopedia of Human Resource Management, Volume 3, Critical and Emerging Issues in Human Resources (US $150.00)
-and- Handbook of Workplace Assessment (US $90.00)
Total List Price: US $240.00
Discounted Price: US $180.00 (Save: US $60.00)
Cannot be combined with any other offers. Learn more.