Encyclopedia of Human Resource Management, Volume 2, Human Resources and Employment Forms
ISBN: 978-0-470-25772-2
384 pages
April 2012, Pfeiffer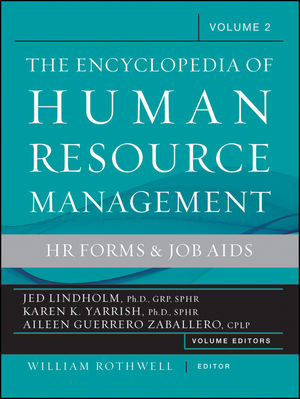 Human resource management is a vital function of any organization, at the nexus of business practice, psychology, and law. This one-of-a-kind and all-in-one print and online encyclopedia offers access to information on all manner of topics and issues related to the "people" side of business. Volume 2 features hundreds of model employment forms; any item from Volume 1 that has forms associated with it will have forms provided in this volume. Forms are customizable or reproducible and compliant with current regulations. For students, researchers, and educators, the Encyclopedia will be a first stop on the way to more in-depth research. For entrepreneurs, managers, and employees, it will serve as an essential introduction and practical guide. For professionals in human resource management, it will be a handy reference.
See More
Acknowledgments vii
About the Editors and Authors ix
Forms Included in This Volume xvii
Introduction to Volume Two xxi
PART ONE: RECRUITMENT AND STAFFING 1
What Is Potential? 3
William J. Rothwell
Recruitment and Staffi ng Forms 5
PART TWO: TALENT MANAGEMENT AND DEVELOPMENT 29
What Is a High Potential (HiPo)? 31
William J. Rothwell
Talent Management and Talent Development: What They Are, and Why You Should Care 33
William J. Rothwell
The Different Leadership Styles 36
Aileen G. Zaballero and Jong Gyu Park
The Difference Between Management Succession Planning and Technical Succession Planning 39
William J. Rothwell
Career Planning and Development, and Why You Should Care About It 41
William J. Rothwell
Competency-Based Human Resource Management 45
William J. Rothwell
Values Modeling, and Why You Should Care About It 48
William J. Rothwell
Talent Management Forms 53
Training and Development Forms 77
PART THREE: WORK/PERFORMANCE ANALYSIS AND REWARDS 97
Performance Appraisals: Understanding, Utilizing, and Unlocking Their Potential 101
Danielle Evanoski
Work/Performance Analysis Forms 105
Rewards Forms 175
PART FOUR: EMPLOYEE RELATIONS AND COMMUNICATION 197
What Are Virtual Teams? 199
Hsin-Ling Tsai
Employee Engagement, and Why It Is Important 202
Catherine Baumgardner and Jennifer L. Myers
Employee Wellness Programs 205
Shannon Oyewole and Kelsey Taylor
What Is Disability Competence, and Why Should You Care About It? 210
Tammy Smith
What Is a "Mature" Worker? 214
Dale Bradley Elwood
Employee Relations Forms 217
PART FIVE: MEASURING ORGANIZATION EFFECTIVENESS 257
What Is HR Transformation? 259
William J. Rothwell
Organizational Effectiveness, and Why It is Important 262
Yasser Binsiddiq and Hsin-Ling Tsai
What Is Corporate Culture? 265
Catherine Baumgardner
Strategic Planning, and Why You Should Care About It 267
M.J. Zygmont and Daniela A. Feenstra
Why Should You Care About Change Management? 270
Nai-Fen Su
Five Approaches to Change in Organizations 273
William J. Rothwell
Action Research for Sustainable Change 283
Maria T. Kirby
Accentuating the Positive: Leveraging Strengths to Advantage 286
William J. Rothwell
How to Identify and Analyze Problems in Your Organization 290
Bud Benscoter
What Is Six Sigma? 295
Sohel M. Imroz
Measuring Organization Effectiveness Forms 301
PART SIX: ADDITIONAL RESOURCES 327
The HRIG Model 329
Work Forms Chart 339
Websites 342
Forms Available on the Website for This Volume 343
Index 347
See More
William J. Rothwell
, Ph.D., SPHR, professor of Workforce Education and Development, Department of Learning and Performance Systems, Pennsylvania State University and president of Rothwell and Associates, Inc. He is the author, coauthor, or editor of over 60 books and hundreds of articles and book chapters on human resource management, training, and development.
Jed Lindholm, Ph.D., SPHR, GRP is president of Human Resource Performance Possibilities (HRP2) and consults in the areas of performance management, total rewards, HR analytics, and workplace learning. He is a teaching associate at Worcester Polytechnic University in Worcester, Massachusetts.
Karen K. Yarrish, Ph.D., SPHR is an associate professor and chair of the Business, Management, and Technology Division at Keystone College. She consults in the area of performance management and HR management. She has authored journal articles pertaining to the areas of performance management, leadership, and emotional intelligence.
Aileen G. Zaballero, CPLP, is a dual title Ph.D. candidate in workforce education and development and comparative international education, with an emphasis on organization development at Pennsylvania State University. She is a Certified Professional in Learning and Performance through ASTD.
See More
Buy Both and Save 25%!
Encyclopedia of Human Resource Management, Volume 2, Human Resources and Employment Forms (US $150.00)
-and- Handbook of Workplace Assessment (US $90.00)
Total List Price: US $240.00
Discounted Price: US $180.00 (Save: US $60.00)
Cannot be combined with any other offers. Learn more.