SolidWorks Surfacing and Complex Shape Modeling Bible
ISBN: 978-0-470-25823-1
Paperback
460 pages
April 2008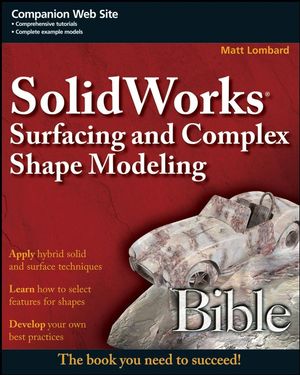 This title is out-of-print and not currently available for purchase from this site.
Other Available Formats:
E-book
Preface.
Acknowledgments.
Part I: Laying the Groundwork.
Chapter 1: Understanding Basic Concepts.
Chapter 2: Surfacing Primer.
Part II: Understanding the Tools.
Chapter 3: Sketching with Splines.
Chapter 4: Sketching in 3D.
Chapter 5: Creating Curves.
Chapter 6: Using the Primary Shape Creation Features.
Chapter 7: Using Advanced Fillets.
Chapter 8: Shelling.
Part III: Using Secondary, Management, and Evaluation Tools.
Chapter 9: Using Secondary Shape Creation Features.
Chapter 10: Working with Hybrid Features.
Chapter 11: Managing Surfaces.
Chapter 12: Using Direct Editing Tools.
Chapter 13: Managing Bodies.
Chapter 14: Evaluating Geometry.
Part IV: Using Specialized Techniques.
Chapter 15: Modeling a Ladle.
Chapter 16: Modeling a Trowel .
Chapter 17: Modeling Blends.
Chapter 18: Modeling a Plastic Bottle.
Chapter 19: Modeling Decorative Features.
Chapter 20: Modeling Overmolded Geometry.
Chapter 21: Working from Digitized Data.
Chapter 22: Using Master Model Techniques.
Chapter 23: Post-Processing Data.
Index.