Canon EOS 40D Digital Field Guide
ISBN: 978-0-470-26044-9
320 pages
April 2008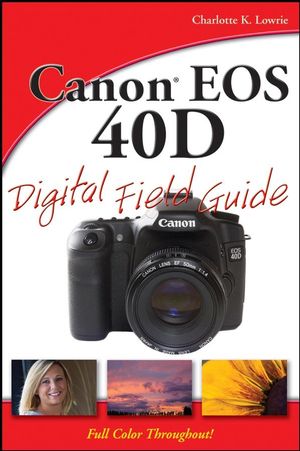 In the Canon EOS 40D, speed and reliability meet superior image quality and affordability. With this handy guide, you?ll learn how to work with color spaces and white balance, use Live View, set up the 40D for your shooting style, set and evaluate exposure, and more. Get helpful tips and advice on using and modifying Picture Styles, creating customized settings for the subjects you shoot most often, and working with natural light. Just picture the amazing photos you?ll take with your Canon EOS 40D!
See More
Acknowledgments.
Introduction.
Getting the Most from This Book.
Part I: Using the Canon EOS 40D.
Chapter 1: Exploring the Canon EOS 40D.
Chapter 2: Working with the Canon EOS 40D.
Chapter 3: Color and Picture Styles.
Chapter 4: Customizing the EOS 40D.
Chapter 5: Using Live View Shooting.
Part II: Getting the Most from the Canon EOS 40D.
Chapter 6: Selecting and Using Lenses.
Chapter 7: Working with Light.
Chapter 8: Using Flash.
Chapter 9: In the Field with the EOS 40D.
Part III: Completing the Picture.
Chapter 10: Working with RAW Capture and Updating Firmware.
Appendix A: Image Sensors and the Canon DIGIC Processor.
Appendix B: EOS 40D Specifications.
Appendix C: Professional Resources.
Glossary.
Index.
See More
Charlotte K. Lowrie is a freelance stock, editorial, and portrait photographer and award-winning writer. Her images have been featured on the Canon Digital Learning Center, in Microsoft publications, and in national magazines. Charlotte teaches BetterPhoto.com classes, and she is the author of eight books including the bestselling Canon EOS Digital Rebel XTi Digital Field Guide, Camera Raw Studio Skills, and several other Wiley titles. She is the coauthor of Exposure and Lighting for Digital Photographers Only, also from Wiley. Visit her Web site at wordsandphotos.org.
See More