Vaccine Development and Manufacturing
ISBN: 978-0-470-26194-1
464 pages
November 2014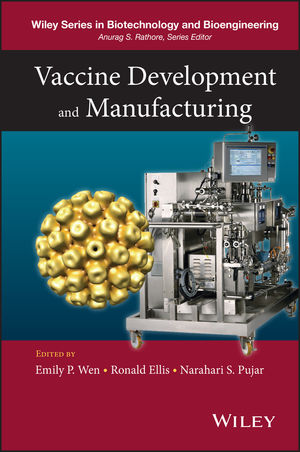 Vaccine Manufacturing and Production is an invaluable reference on how to produce a vaccine - from beginning to end - addressing all classes of vaccines from a processing, production, and regulatory viewpoint. It will provide comprehensive information on the various fields involved in the production of vaccines, from fermentation, purification, formulation, to regulatory filing and facility designs. In recent years, there have been tremendous advances in all aspects of vaccine manufacturing. Improved technology and growth media have been developed for the production of cell culture with high cell density or fermentation. Vaccine Manufacturing and Production will serve as a reference on all aspects of vaccine production by providing an in-depth description of the available technologies for making different types of vaccines and the current thinking in facility designs and supply issues. This book will provide insight to the issues scientists face when producing a vaccine, the steps that are involved, and will serve as a reference tool regarding state-of-the-art vaccine manufacturing technologies and facility set-up.

Highlights include:


Comprehensive coverage of vaccine production : from a process point of view- fermentation to purification to formulation developments; from a production point of view - from facility design to manufacturing; and from a regulatory point of view - requirements from government agencies
Authors from different major pharmaceutical and biotechnology companies
Describes the challenges and issues involved in vaccine production and manufacturing of the different classes of vaccines, an area not covered by other books currently on the market
See More
Acknowledgments vii
Preface ix
Contributors xi
1 History of Vaccine Process Development 1
Narahari S. Pujar, Sangeetha L. Sagar, and Ann L. Lee
2 The Production of Plasmid DNA Vaccine in Escherichia coli: A Novel Bacterial-Based Vaccine Production Platform 25
Michel Chartrain
3 Fungal Expression Systems for Vaccine Production 51
Karl Melber, Volker Jenzelewski, Roland Weyhenmeyer, and Zbigniew Janowicz
4 Novel Expression Systems for Vaccine Production 81
Shailaja Rabindran and Vidadi Yusibov
5 Viral Vaccines Purification 97
Bernd Kalbfuss-Zimmermann and Udo Reichl
6 Protein Subunit Vaccine Purification 181
Yan-ping Yang and Tony D'Amore
7 Conjugate Vaccine Production Technology 217
Sudha Chennasamudram and Willie F. Vann
8 Stabilization and Formulation of Vaccines 237
Timothy S. Priddy and C. Russell Middaugh
9 Lyophilization in Vaccine Processes 263
Alexis Wasserman, Ranjit Sarpal, and Bret R. Phillips
10 Strategies for Heat-Stable Vaccines 287
Satoshi Ohtake, David Lechuga-Ballesteros, Vu Truong-Le, and Eric J. Patzer
11 Production and Characterization of Aluminum-Containing Adjuvants 319
Stanley L. Hem and Cliff T. Johnston
12 The Biologics License Application (BLA) in Common Technical Document (CTD) Format 347
R.S. Robin Robinett
13 The Original New Drug Application (Investigational New Drug) 373
R.S. Robin Robinett
14 Facility Design for Vaccine Manufacturing—Regulatory, Business, and Technical Considerations and A Risk-Based Design Approach 393
Anand Ekambaram and Abraham Shamir
15 Vaccine Production Economics 413
Andrew Sinclair and Peter Latham
Index 437
See More
Emily P. Wen, PhD, is currently a Research Fellow at the Merck Research Laboratory in the department of Vaccine Process Development. Dr. Wen has led process developments for several major vaccine products from Phase I to Phase III clinical trials, including vaccines against hepatitis B, Haemophilus influenzae type b, Pneumococcal, Meningococcal, and Group B Streptococcus.
Ronald J. Ellis, PhD, is Chief Technology Officer at FutuRx Ltd in Israel. Dr. Ellis has >30 years of industry experience in line and senior management in many companies, including roles as project leader and champion of projects that resulted in 5 licensed vaccines which accrue ~$4B in annual sales. He is the founding and incumbent Editor-in-Chief of the MedLine-/PubMed-indexed journal Human Vaccines & Immunotherapeutics.
Narahari S. Pujar, PhD, MBA, is currently an Executive Director and Integrated Product Leader in the Vaccine Business Line at Merck & Co., Inc.  Dr. Pujar has contributed to a variety of vaccines and biologics products and product candidates. He is an active member of the American Chemical Society and was the past chair of the Division of Biochemical Technology.
Anurag S. Rathore, PhD, is Professor in the Department of Chemical Engineering at IIT Delhi, India. He is an active member of the Parenteral Drug Association (PDA) and American Chemical Society (ACS) and have authored more than 200 publications and presentations in these areas.
See More
More in this series