DVD
Rick Sammon's DVD Guide to Basic Lighting and Portraiture
ISBN: 978-0-470-26257-3
December 2008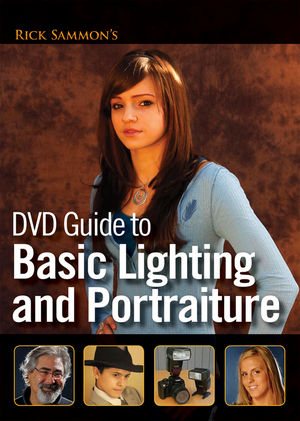 Seeing the light is one of the major keys to getting a good exposure. If you learn how to see the light - the highlights and shadows in the scene, the contrast and color, the subject's and the background's brightness, and even the movement of light - you will become a better photographer by making better exposure decisions. In this DVD, Rick Sammon shows aspiring photographers when to control the light using a reflector, a diffuser, or a flash. He also teaches viewers that when the light is not right in certain locations, they'll need to move the subject or change the composition of a photograph. Topics in this DVD include:
Controlling Natural Light Outdoors
Using Reflectors, Diffusers, and a Flash Outdoors
Camera Settings for this Type of Lighting: White Balance, etc.
Controlling Indoor Light
Using a Single Flash, Remote Flash, Multiple Flashes
Using Strobe Lights
Using "Hot" Lights
See More
Rick Sammon (Croton-on-Hudson, NY), a Canon Explorer of Light, has published more than 30 books. He writes for PCPhoto, Outdoor Photographer, Shutterbug, and Layers magazines. Each year, he gives more than a dozen photography workshops and presentations worldwide. He is a regular presenter at Photoshop World, he created the Canon Digital Rebel XT lessons on the Canon Digital Learning Center, and he produced a number of interactive DVDs. His digital photography work can be found at www.ricksammon.com and www.rickspixelmagic.com.
See More