Managing Project Risk: Best Practices for Architects and Related Professionals
ISBN: 978-0-470-27381-4
272 pages
April 2008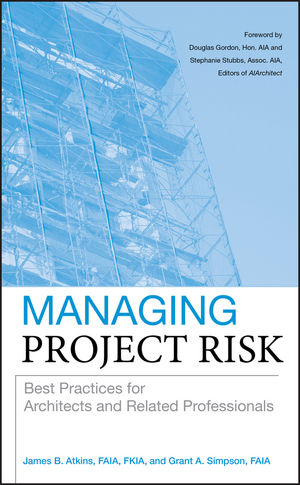 Discover the benefits of effective risk management practices

Risk management may not be a standard course in architecture school, but it is an essential concern for architects and related professionals working today. Managing Project Risk is a key resource for integrating good risk management into professional practice.

Based on a popular series of articles in AIArchitect, this accessible volume offers an on-the-ground perspective of what can happen on the job and what architects can do to prevent or mitigate threatening conditions and events. With an engaging, non-legalistic style, authors Atkins and Simpson draw upon their considerable experience and upon AIA Contract Documents to show how sound risk management strategies work in a variety of real-world settings, covering such practical areas as:
* Risk management fundamentals
* Contracts
* Relationships with clients
* Understanding the architect's role in the project
* Risk issues with digital drawings
* The modern architectural workplace

Rendering potentially dry topics lively with wit and anecdote, Managing Project Risk resonates with the experience of contemporary architects, while offering helpful suggestions applicable not only to risk management but also to project management and professional development.
See More
Foreword by Douglas Gordon, Hon. AIA, and Stephanie Stubbs, Assoc. AIA, Editors of
AIArchitect.
Preface.
Acknowledgments.
Introduction.
Chapter 1. Fundamentals.
The Importance of Risk Management: Its Key Role in Professional Service Delivery.
Risk Management Basics: Essentials for Maintaining an Effective Risk Program.
To Document or Not to Document: Basic Documentation Requirements.
Another Fine Mess—The Onerous Contract, Part 1: Risk Management after the Agreement Is Signed.
Another Fine Mess—The Onerous Contract, Part 2.
Free Fall: Working without a Contract.
Chapter 2. Clients.
Love Me Tender: Maintaining the Client Relationship.
Smoke, Mirrors, and Snake Oil: Risks in Marketing.
Double-Edged Sword: The Owner's Separate Consultants.
The Power of One: The Effective Owner-Architect-Contractor Team.
Chapter 3. Power and Proficiency.
Project Manager or Risk Manager? The Architect's Dual Role.
Master and Commander, Part 1: The Architect's Authority.
Master and Commander, Part 2.
Top Gun: Targeting and Resolving Problematic Issues.
Zen and the Art of Construction Administration, Part 1:How Discipline and Self-Control Can Improve Your Services.
Zen and the Art of Construction Administration, Part 2.
Chapter 4. Essentials.
A Loss Cause: Drawing Discrepancies and Ensuing Damages.
A Loss Cause Too: Betterment.
Absolute or Absolution? Observations, Inspections, and the Contractor's Warranty.
The Good, the Bad, and the Ugly: Challenges and Risks of Nonconforming Work.
Drawing the Line: Why the Architect's Documents Cannot Be Used for Construction.
Chapter 5. Applications.
A Fistful of Dollars: Surviving Project Buyout.
Ch-Ch-Changes . . . : Managing Risk in the Change Process.
According to Hoyle: The Submittal Process.
Visible Means: Site Visits and Construction Observation.
A Certifi able Risk: Cautions and Strategies in the Payment Certification Process.
Substantial Completion, Where Art Thou? A Challenging and Elusive Milestone.
Chapter 6. The Architects' Lament.
Your Grandfather's Working Drawings: A Nostalgic Look at the Past, Observations of the Present.
The Speed of Life: Preserving Your Personal Life in a Hectic World.
Raiders of the Lost Art: The Vanished Treasures of Architecture.
Chapter 7. Introspection.
Who Are You? Defi ning the Architect.
Who's on First? Covering Your Bases in a Resource-Challenged Industry.
Little Boxes: The Challenges of Producing Original Design.
Gimme Shelter: The Building Exterior Wall.
Lemons to Lemonade: Benefi ting from Mistakes.
Index.
See More
James B. Atkins
, FAIA, FKIA, has spent the past thirty years as risk manager and senior construction principal with HKS Architects, the world's third largest architecture firm, where he pioneered many procedural advances in architecture services, many of which have been adopted by the AIA. Jim has served on the AIA Documents Committee and was the 2006 chair of the AIA Risk Management Committee. He chaired the AIA Task Group for the Fourteenth Edition of The Architect's Handbook of Professional Practice and was a contributor to that volume.
Grant A. Simpson, FAIA, serves several architectural firms, including HKS and RTKL, as a practice and project management consultant. He has provided expert witness services on some of the largest and most complex projects, and has been an active project manager for major projects throughout the United States and internationally for more than thirty years. A member of the AIA Risk Management Committee in 2008, Grant was the 2006 chair of the AIA Practice Management Knowledge Community Advisory Group, and was a contributor to the Fourteenth Edition of The Architect's Handbook of Professional Practice.
See More