Group Policy: Fundamentals, Security, and Troubleshooting
ISBN: 978-0-470-27589-4
761 pages
May 2008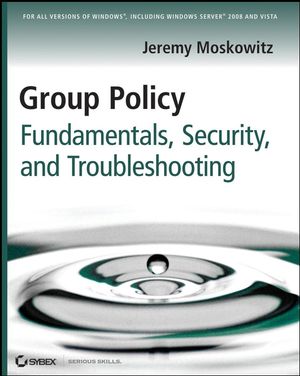 Streamline Windows Server management by grouping policy settings to monitor and regulate users and the network's computers. Revised and updated to include Windows Server 2008 and Vista, Group Policy: Fundamentals, Security, and Troubleshooting examines how Group Policy monitors and regulates users and controls activity on a network's computers. Employ the various Group Policy settings, learn how to manage Group Policy with Management Console, troubleshoot Group Policy settings, and implement network security with Group Policy. Also, find ready-to-use scripts that you can use to automate routine administration tasks.
See More
Introduction.
Chapter 1: Group Policy Essentials.
Chapter 2: Managing Group Policy with the GPMC.
Chapter 3: GPMC 2.0—Filtering, Comments, and Starter GPOs.
Chapter 4: Group Policy Processing Behavior Essentials.
Chapter 5: Advanced Group Policy Processing.
Chapter 6: Troubleshooting Group Policy.
Chapter 7: ADM and ADMX Template Management.
Chapter 8: Implementing Security with Group Policy.
Chapter 9: Windows Vista and Windows Server 2008 Security Enhancements with Group Policy.
Chapter 10: Group Policy Preference Extensions.
Chapter 11: Scripting Group Policy Operations with PowerShell.
Chapter 12: Advanced Group Policy Management (AGPM).
Appendix A: Group Policy Tools.
Index.
See More
Jeremy Moskowitz, Group Policy MVP, is the Chief Propeller-Head for Moskowitz, inc., and GPanswers.com. He is a nationally recognized authority on Windows Server, Active Directory, Group Policy, and other Windows management topics. He is one of less than a dozen Microsoft MVPs in Group Policy. He runs GPanswers.com, ranked by Computerworld as a "Top 20 Resource for Microsoft IT Professionals." Jeremy frequently contributes to Microsoft TechNet Magazine, Windows IT Pro magazine, and Redmond magazine. Jeremy is a sought-after speaker at many industry conferences, and, in his training workshops, helps thousands of administrators every year do more with Group Policy. Contact Jeremy by visiting GPanswers.com.
See More
Learn more about