Medicare Prescription Drug Coverage For Dummies
ISBN: 978-0-470-27676-1
388 pages
September 2008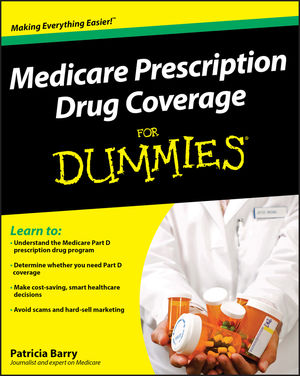 Confused about Medicare's drug coverage? You're not alone.
Medicare Prescription Drug Coverage For Dummies
explains Part D in plain English and shows you how to find the best deal among numerous drug-coverage plan options. Whether you're new to Medicare or already in the program, you'll navigate the system with more ease and confidence, avoid pitfalls and scams, and have plenty of help choosing the plan that's right for you.
This easy-to-understand, consumer-friendly guide helps you find out whether Part D affects any drug coverage you already have and weigh the consequences of going without coverage. You'll find ways to compare plans, identify the one that covers your drugs at the least cost, and make sure you sign up at the right time. And you'll learn how to minimize your expenses, use the "right" pharmacies, and troubleshoot any problems with your coverage. Discover how to:
Decide whether you need Part D
Understand how Part D works, from costs to coverage
Choose and enroll in the best plan for you
Get up and running with Part D
Handle the coverage gap
Lower your drug costs
Join and switch plans
Comply with long-term-care rules and rights
Challenge plan decisions
Avoid scams and hard-sell marketing
Now, more than ever, you need clear, reliable information that helps you understand Part D and make smart, cost-saving healthcare decisions. You need Medicare Prescription Drug Coverage For Dummies.
See More
Introduction  1

Part I: The Nuts and Bolts of Medicare

Prescription Drug Coverage  7

Chapter 1: The ABCs (And D) of Medicare 9

Chapter 2: The Rules of the Game: How Part D Works 23

Chapter 3: The Big Question: What Will Part D Cost (And Save) You? 31

Chapter 4: Delving into Drug Coverage under Part D 43

Chapter 5: Extra Help: A Better Deal if Your Income Is Low 57

Part II: Deciding Whether to Sign Up for Part D  83

Chapter 6: Taking Other Drug Coverage and Sources into Account 85

Chapter 7: Considering Coverage if You Take Few or No Drugs Right Now 105

Chapter 8: Confronting the Late Penalty 113

Part III: Choosing and Enrolling in the Right Part D Plan for You  123

Chapter 9: The First Cut: Deciding How You Want to Receive Your Medical Benefits 125

Chapter 10: Making a Smart Choice among Medicare Prescription Drug Plans 149

Chapter 11: Buyer Beware: Avoiding Scams and Hard-Sell Marketing183

Chapter 12: Signing Up for a Part D Plan for the First Time 195

Part IV: You're In! Navigating Part D from the Inside  205

Chapter 13: You've Just Signed Up — What Happens Now? 207

Chapter 14: Filling Your Prescriptions 221

Chapter 15: In and Out of the Coverage Gap 233

Chapter 16: Bringing Down Your Drug Costs 249

Chapter 17: Switching to Another Plan 263

Chapter 18: Staying in Long-Term Care (Or Helping Someone Who Is) 283

Chapter 19: You Have Rights: How to Holler and (If Necessary) Holler Louder 293

Part V: The Part of Tens  313

Chapter 20: Ten Ways Boomers Can Help Loved Ones with Part D 315

Chapter 21: Ten Proposed Changes to Part D You Should Know About 321

Part VI: Appendixes  325

Appendix A: Worksheets327

Appendix B: Sources of Help 333

Appendix C: Buying Prescription Drugs Safely from Abroad 345

Index  351
See More
Patricia Barry is a senior editor at the AARP Bulletin and a recognized expert on the Medicare Part D prescription drug program. During a long career in journalism, she has authored thousands of articles and two guidebooks on healthcare and social policy. Since 1999, she has specialized in writing about Medicare and prescription drugs.
See More