China Fireworks: How to Make Dramatic Wealth from the Fastest-Growing Economy in the World
ISBN: 978-0-470-27677-8
276 pages
May 2008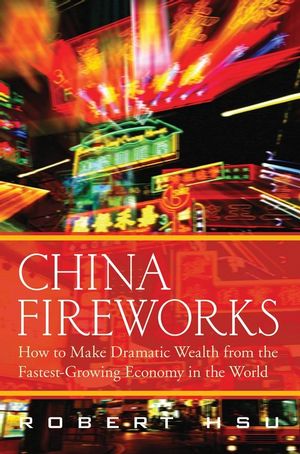 As one of the leading experts on investing in China's economy, author Robert Hsu advises people every day on how a China strategy will truly take them to a new level of investing. With his new book, Hsu shows you how to build your fortune by participating in what he calls the "China Miracle." Page by page, Hsu helps you navigate this dynamic market and reveals the best ways to invest in the world's fastest-growing economy.
See More
Preface.
Chapter 1. Introduction to the China Miracle.
Building True Wealth.
The Real Growth Driver.
Chapter 2. The China Miracle.
Investment Essential #1: China's History.
Investment Essential #2: China's People.
Immigrants Impact Growth.
Investment Essential #3: China's Values.
Chapter 3. The Golden Rules.
Pick Your Pitch.
Knowing When to Buy.
Be Wary of the Crowd.
Buy Parameters.
Avoiding the Exchanges.
Chapter 4. The Lay of the Land.
Know Your Province.
Beijing: Where the Waters Run Deep.
Shanghai: Optimism Rules the Day.
Northern China.
Eastern China.
Southern China.
Central China.
Hong Kong.
Chapter 5. The Entrepreneurs vs. The SOEs.
China Aluminum & China Southern Airlines.
Be Wary of New IPOs.
The Foundation of Great Companies.
Chapter 6. Unraveling the Exchanges.
Mainland China: A-Shares.
Mainland: B-Shares.
Hong Kong: H-Shares.
Two Tiers Equate to Double the Difficulty.

A Closer Look at the Shanghai Exchange.

Avoid Mainland Exchanges.

Chinese ETFs.

Chapter 7. Buying What China Buys.

Find the Scarcity.

Infrastructure Investing.

Testing Your Metal.

Finding Profits in Power.

Another Energy Play.

Cleaning Up by Cleaning Up.

Trina Solar.

The Future is with the People.

Chapter 8. Buying What China Desires.

Communication Buildup.

A Must Have Strategy.

Hitting the Road.

Sure Bets in a Risky Business.

Las Vegas Sands.

The Richest Teacher in China.

China's Urbanization.

Chapter 9. Buying What China Makes.

Chapter 10. The Wealth Of Chuppies.

Determined to Make Their Mark.

Housing.

Disposable Income.

Personal Finance.

Focus Media.

Dining.

Cell Phones.

Transportation.

Big Picture.

The Rise of the Chuppies: Frances.

Capitalizing On The Opportunities: Kou Men-yuen.

Chapter 11. Serving the People.

The Need to Feed.

A Plastic Plan.

Keeping Healthy.

Investing in Insurance.

Growing Fast in Food.

Chapter 12. Danger Signs: The Proverbial China Shop.

Baidu and JA Solar.

Opening the Gates.

Development in Western China.

Improvement of Rural Farming Villages.

Primary Education for Children.

Prosperity and Inflationary Pressures.

Getting Out.

Nvidia.

Chapter 13. China's Political Place in The World.

The Currency Conundrum.

The Asian Coattail Effect.

Chapter 14. Your China Strategy.

1. Gather accurate information about China.

2. Identify industries that are growing..

3. Pick industry leaders.

4. Make your buy.

5. Be ready to get out and collect your profits.

6. Keep your eyes and ears open.

About the Author(s).

Index.
See More
Robert Hsu is the founder and President of Absolute Return Capital Advisors LLC, a private client money management firm. His privately circulated investment information services, China Strategy and Asia Edge, published by InvestorPlace Media, LLC (www.investorplace.com) are currently two of the bestselling and fastest-growing financial newsletters in the United States. Born in Taiwan and fluent in Mandarin, Hsu maintains an organization of analysts in China who research and report firsthand on cultural, corporate, and governmental shifts within the country. Hsu graduated from UCLA with a BA in economics.
See More