Wiley CIA Exam Review Focus Notes: Internal Audit Activity's Role in Governance, Risk and Control, Volume 1
ISBN: 978-0-470-27706-5
152 pages
October 2008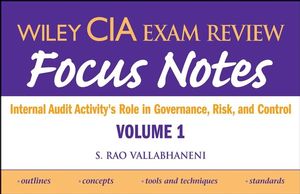 The Certified Internal Auditor (CIA) is the only globally accepted certification designation for internal auditors and remains the standard by which individuals demonstrate their competency and professionalism in the internal auditing field. The Wiley CIA Exam Review Focus Notes, Volume 1: Internal Audit Activity's Role in Governance, Risk, and Control complements and supplements the existing Wiley CIA Exam Review books and prepares you for Part 1 of the CIA Exam with helpful outlines, concepts, tools and techniques, and standards.
See More
Preface.
About the Author.
Chapter 1. Comply with the IIA's Attribute Standards (15-25%).
Chapter 2. Establish a Risk-Based Plan to Determine the Priorities of the Internal Audit Activity (15-25%).
Chapter 3. Understand the Internal Audit Activity's Role in Organizational Governance (10-20%).
Chapter 4. Perform Other Internal Audit Roles and Responsibilities (0-10%).
Chapter 5. Governance, Risk, and Control Knowledge Elements (15-25%).
Chapter 6. Plan Engagements (15-25%).
Appendix. Sarbanes-Oxley Act of 2002.
Index.
See More
S. Rao Vallabhaneni is an educator, author, publisher, and practitioner in the business management field with more than 30 years of management and teaching experience in internal auditing, accounting, manufacturing, finance, and information technology consulting in the pubic and private sections and the academia. The 2004 Joseph Wasserman Memorial Award recipient, he is the author of more than 50 books, including monographs, audit guides, exam study guides, and articles. He has 24 professional certifications in management, accounting, auditing, finance, information technology, manufacturing, supply chain, quality, and human resources. He is the author of Wiley CIA Exam Review Books and CD Software. His CIA Exam Review books were translated into Chinese and his CISA Exam Review book was translated into Japanese. His recent book, entitled Corporate Management, Governance, and Ethics Best Practices, was published by John Wiley & Sons, Inc. (January 2008).
See More