Planet Water: Investing in the World's Most Valuable Resource
ISBN: 978-0-470-27740-9
Hardcover
368 pages
April 2009
US $39.95

Add to Cart
This price is valid for United States. Change location to view local pricing and availability.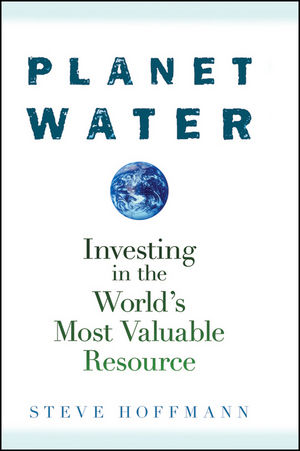 Other Available Formats:
E-book
Part I. Water.
Chapter 1. Water: Prerequisite for Life, and Living.
Prerequisite for Life.
Prerequisite for Living.
Chapter 2. The Global Water Condition.
The Human Cost of Waterborne Disease.
Supply and Demand.
Regional Fundamentals.
Water Institutions.
Overview of Water Reguation in the United States.
Global Water Regulations.
Non-Governmental Organizations.
The Institutional Impact on Water Investing.
The Role of Water in Economic Growth.
Chapter 3. Public Good, Commodity or Resource?
What Is Water?
Water as a Public (Social) Good.
Water as a Commodity.
The Answer: Water as a Resource.
Chapter 4. The Cost of Clean Water.
How Big Is the Universe?
The Global Cost of Clean Water.
From the Whole to the Parts.
The Transition from Cost to Price.
Part II. Investing in Water.
Chapter 5. The Business of Water.
Water versus Wastewater.
Functional Categories.
Water-Related Applications.
Drivers of the Water Industry.
Chapter 6. Water Utilities.
A Brief History.
Regulatory Providers Face Regulatory Burdens.
Non-Regulated Activities.
The Future of Water Utilities.
Foreign Water Utilities.
Conclusions.
Chapter 7. Centralized Water and Wastewater Treatment.
The Basics.
Centralized Treatment.
Treatment Chemicals.
Mixed Oxidants.
Carbon.
Resins: Ion Exchange.
Chapter 8. Decentralized Water and Wastewater Treatment.
Decentralized Treatment.
The Roots of Decentralized Treatment.
Water Softeners and Salinity.
Groundwater Treatment.
Membrane Bioreactors: The Future of Decentralized Treatment.
Chapter 9. Water Infrastructure.
The Distribution System.
Stormwater Infrastructure.
Investment Components.
Pipeline Rehabilitation.
Flow Control and Pumps.
Chapter 10. Water Analytics.
Metering.
Monitoring, Measuring, and Testing
Asset Management
Chapter 11. Water Resource Management.
Water Resource Management Defined.
The Principle of Sustainability.
Remediation.
Water Supply: Reservoirs and Dams.
Irrigation.
Chapter 12. Desalination.
The Promise of Desalination.
The Process of Desalination.
Part III. Water Beyond the 21st Century.
Chapter 13. Emerging Issues.
Unregulated Contaminants.
Biosolids Management: There's Money in Sludge.
Biotechnology.
Regulation.
Regulating Nonpoint Sources of Water Contamination.
Water Reuse.
Water Conservation.
Nanotechnology.
Algal Toxins.
Measuring Chlorophyll-a.
Pharmaceuticals and Personal Care Products.
Chapter 14. Water As An Asset Class.
Is Water an Asset Class?
What Is An Asset Class?
Chapter 15. Climate Change and the Hydrologic (Re)Cycle.
Planning for Uncertainty.
Impacts on Water Quality.
Occurrence of Drought.
Investing in Drought.
Chapter 16. Conclusion.
The Windfall Profits Tax…On Water.
The Age of Ecology, Again.
Is Water The Next Oil?
Appendix A. Water Contaminants.
Microbial Contaminant Candidates.
Chemical Contaminant Candidates or CCL3 Candidates.
Appendix B. Acronyms.
Appendix C. Conversions.
Notes.
About the Author.
Index.