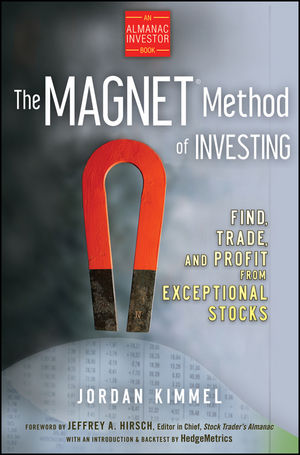 The MAGNET Method of Investing: Find, Trade, and Profit from Exceptional Stocks
Buy this book from:
ISBN: 978-0-470-27929-8
304 pages
August 2009
Jordan Kimmel's MAGNET® Stock Selection System has been unearthing top-performing stocks since 1997. Now, he shares the knowledge that may help you to reap lgains by showing you how to own shares of the right stocks before they become the darlings of Wall Street. Drawing on 25 years of experience, and his close relationships with today's top money managers, Kimmel redefines risk and shows investors how to outperform the "closet indexers" that currently manage most mutual funds, giving insight into how to profit from the appreciation that follows.
Praise for The MAGNET® Method of Investing
"Rather than encouraging the scatter shot approach of broad diversification, Jordan focuses on the rifle-shot Magnet® method of identifying a limited number of quality stocks to improve your chances of beating the market."
—Sam Stovall, Chief Investment Strategist, Standard & Poor's Equity Research
"Jordan Kimmel is one of the brightest market observers out there, and he is certainly a rising star that will be an important person to follow marketwise for many years."
—Michael Burke, Coeditor, Investors Intelligence, Inc.
"… is an amazing, detailed, and intuitive book. I especially enjoyed Jordan's insights into diversification, the inefficient market, and identifying stocks that are in their 'sweet spot…' This is simply an incredible book that is a must-read for both beginning and serious investors."
—Louis G. Navellier, Chairman and founder, Navellier & Associates, Inc.
"… examines investing from a different perspective… a unique alternative to diversification. Jordan Kimmel has analyzed the methods of the best investors through time and introduces his robust stock selection process."
—David M. Darst, CFA, Managing Director and Chief Investment Strategist, Morgan Stanley Global Wealth Management Group
ABOUT THE AUTHOR:
Jordan L. Kimmel (Randolph, NJ) is the Market Strategist for National Securities Corp., one of the oldest and largest independent broker dealers in the United States. He developed the MAGNET® Stock Selection Strategy outlined in his new Wiley book, The Magnet Method of Investing (August 2009). Prior to joining National Securities Corp., Mr. Kimmel was the President of The Magnet Investment Group where he managed proprietary funds and served as a sub-advisor to other prominent investment firms. While there he licensed his stock selection process to John Nuveen and Co. (John Nuveen & Co. has issued Unit Investment Trusts applying the MAGNET® stock selection process to several different indexes. The product was marketed under the name "GEMS".) Earlier in his career, Mr. Kimmel was a First Vice President at Dean Witter. Prior, he was an account executive at Paine Webber and A.G. Edwards. A graduate of the State University of New York at Stony Brook, Mr. Kimmel holds a BA in Economics and an MS in Urban Policy Sciences. He is also a graduate of The Bronx High School of Science. Mr. Kimmel appears regularly on ABC, CNBC, and Fox Business News, and hosts his own weekly radio show, "Magnet Investing with Jordan Kimmel," on the VoiceAmerica Business Network. He is quoted frequently in national newspapers including The Wall Street Journal and USA Today, and is a widely sought after speaker at financial conferences. His previous book, Magnet® Investing, introduced his proprietary stock selection model that was licensed and used by prominent institutions.
More Information About this Book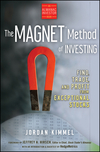 The MAGNET Method of Investing: Find, Trade, and Profit from Exceptional Stocks
Buy this book from: