Anthropology For Dummies
ISBN: 978-0-470-27966-3
384 pages
August 2008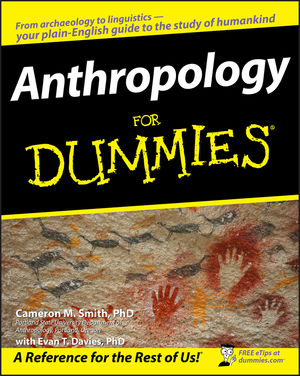 Covers the latest competing theories in the field
Get a handle on the fundamentals of biological and cultural anthropology
When did the first civilizations arise? How many human languages exist? The answers are found in anthropology - and this friendly guide explains its concepts in clear detail. You'll see how anthropology developed as a science, what it tells us about our ancestors, and how it can help with some of the hot-button issues our world is facing today.
Discover:
How anthropologists learn about the past
Humanity's earliest activities, from migration to civilization
Why our language differs from other animal communication
How to find a career in anthropology
See More
Introduction.
Part I: What Is Anthropology?
Chapter 1: Human Beings and Being Human: An Overview of Anthropology.
Chapter 2: Looking Into Humanity's Mirror: Anthropology's History.
Chapter 3: Actually, Four Mirrors: How Anthropology Is Studied.
Part II: Physical Anthropology and Archaeology.
Chapter 4: The Wildest Family Reunion: Meet the Primates.
Chapter 5: My Career Is in Ruins: How Anthropologists Learn about the Past.
Chapter 6: Bones of Contention: The Fossil Evidence for Early Human Evolution.
Chapter 7: It's Good to Be Home: Homo sapiens sapiens, Our Biological Species.
Chapter 8: Hunting, Fishing, Sailing, and Sledding: The Spread of Humanity Worldwide.
Chapter 9: Old, Old McDonald: The Origins of Farming.
Chapter 10: The Development of Civilization.
Part III: Cultural Anthropology and Linguistics.
Chapter 11: The Spice of Life: Human Culture.
Chapter 12: From Kalahari to Minneapolis: How Cultural Anthropologists Work.
Chapter 13: Can We Talk? Communication, Symbols, and Language.
Chapter 14: Types of Types: Race and Ethnicity.
Chapter 15: Guess Who's Coming to Dinner? Identity, Family, Kinship, and Gender.
Chapter 16: Not at the Dinner Table! Religion and Politics.
Part IV: So What? Anthropology, the Modern World, and You.
Chapter 17: Kiss or Kill? Diversity, Conflict, and Culture.
Chapter 18: Looming Disasters? From Overpopulation to Space Debris.
Chapter 19: Eve and the Iceman: The Cutting Edge of Physical Anthropology.
Chapter 20: Stonehenge and You: Why Archaeology Matters.
Part V: The Part of Tens.
Chapter 21: Ten Things to Remember about Anthropology, Whatever Else You Forget.
Chapter 22: Ten Great Careers for Anthropology Majors.
Chapter 23: Ten Great Anthropologically Themed Movies and Books.
Index.
See More
Cameron M. Smith's
fascination with humanity was sparked on a 1984 trip to Mexico's Maya ruins; by 1987, he was a student of both Harvard University's early human archaeology field school at Kenya's Leakey research station and the University of London's Institute of Archaeology. He then went to Durham University in northern England for a Joint Honours BA in Anthropology & Archaeology, followed by an MA in Anthropology at Portland State University (in Portland, Oregon) and a PhD from Canada's Simon Fraser University.
Since 2002, Dr. Smith has taught a wide variety of courses as an Adjunct Associate Professor at Portland State University's Department of Anthropology; he has also taught at Washington State University and Linfield College.
Dr. Smith's scientific works have been published in journals such as the
American Journal of Physical Anthropology
and the
Journal of Field Archaeology
and books published by International Monographs in Prehistory and Oxford's British Archaeology Reports. His research has been supported by the National Endowment for the Humanities and the National Science Foundation-funded Barrow Arctic Science Consortium.
Reaching out from the academic world, Dr. Smith has written popular-science articles for
Scientific American MIND
,
Archaeology
,
Playboy
,
Spaceflight
,
Skeptical Inquirer
,
South American Explorer
,
The Next Step
,
Cultural Survival Quarterly
,
The Bulletin of Primitive Technology
, and other magazines.
Anthropology For Dummies
is Dr. Smith's second book. His first, written with Charles Sullivan, was
The Top Ten Myths About Evolution
(Prometheus, 2006).
Evan T. Davies received his BA from Cornell University where he began his studies in anthropology. He earned a PhD in cultural anthropology from Rice University, and has conducted fieldwork throughout Europe, the South Pacific, and in many locations throughout sub-Saharan Africa. His doctoral dissertation reported on the land use patterns of the BaAka foragers of the central African rainforests whose subsistence and hunting strategies he studied while living with them through the seasons. He has recently become involved with the protection of archaeological sites in Iraq.
See More