E-book
Connect!: A Guide to a New Way of Working from GigaOM's Web Worker Daily
ISBN: 978-0-470-28007-2
275 pages
April 2008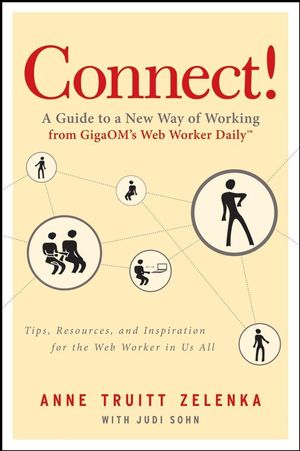 If you use the web to reach out beyond the confines of your office, cubicle, or home to connect and collaborate with others doing the same thing, you're a web worker. In this book you'll learn how to use new web tools, discover sites and services you might want to try, and meet the social web where people are as important as corporations. You'll learn how people are working in new ways because of the web, and how you can too.
See More
Foreword.
Introduction.
1 Towards a Web Working World.
2 Get Ready to Web Work.
3 Burst Your Productivity.
4 Rethink Your Relationship with Email.
5 Surf Waves of Information.
6 Connect, Communicate, and Collaborate.
7 Go Mobile.
8 Explode Your Career.
9 Manage Your Money.
10 Blend Your Work and Your Personal Life.
11 The Future of Web Work.
Index.
See More
Anne Truitt Zelenka
is a writer and web technologist. As editor at large of Web Worker Daily, Anne brings a mix of career and technical advice to readers looking to find success and satisfaction in the new ways of working enabled by the web.
Anne has been in software and web development since the nineties, and worked through the dot-com boom as a database and web application developer. She lives in Denver with her husband Rick and three children. You can reach her via her website at annezelenka.com.
Judi Sohn, editor of Web Worker Daily, has over 10 years experience as a homebased graphic designer, technology consultant, and blogger. Now remotely managing a patient advocacy nonprofit organization, she truly lives the web worker life and brings her practical experience to Web Worker Daily readers.
Judi lives in Central New Jersey with her husband Eric and two daughters. She maintains a personal blog at momathome.com.
See More