Theraplay: Helping Parents and Children Build Better Relationships Through Attachment-Based Play, 3rd Edition
ISBN: 978-0-470-28166-6
640 pages
December 2009, Jossey-Bass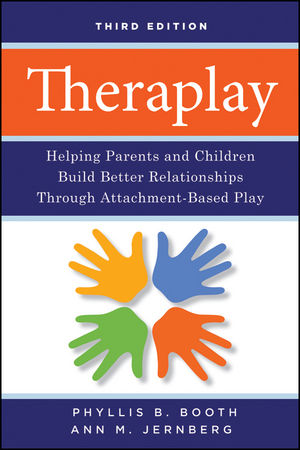 Theraplay a pioneering application of attachment theory to clinical work—helps parents learn and practice how to provide the playful engagement, empathic responsiveness, and clear guidance that lead to secure attachment and lifelong mental health in their children. This third edition of the groundbreaking book Theraplay shows how to use play to engage children in interactions that lead to competence, self-regulation, self-esteem, and trust. Theraplay's relationship-based approach is uniquely designed to help families facing today's busy and often chaotic lifestyle challenges form joyful, loving relationships.
See More
Preface to the Third Edition ix
The Authors xvii
Introduction xxi
Part One: An Overview of the Theraplay Method 1
1 Learning the Basics of the Theraplay Method 3
2 Understanding the Theory and Research That Inform the Core Concepts of Theraplay 39
Phyllis B. Booth and Sandra Lindaman
3 Research Findings That Support the Effectiveness of Theraplay 85
Rand Coleman
Part Two: Strategies for Theraplay Treatment 99
4 Structuring Theraplay Treatment 101
5 Working with the Child 159
6 Working with Parents 203
Part Three: Specific Applications of Theraplay 263
7 Theraplay for Children with Regulation Disorders 265
Annie Kiermaier
8 Theraplay for Children with Autism Spectrum Disorders 301
Sandra Lindaman and Phyllis B. Booth
9 Theraplay for Children with Histories of Complex Trauma 359
Phyllis B. Rubin, Dafna Lender, and Jessica Mroz Miller
10 Theraplay for Children Who Are Adopted or in Foster Care 405
Jessica Mroz Miller, Dafna Lender, Phyllis B. Rubin, and Sandra Lindaman
11 Theraplay for Adolescents 449
William S. Fuller
12 Group Theraplay 495
Phyllis B. Rubin
Appendix A Marschak Interaction Method: Recommended Basic List of Tasks 521
Appendix B Theraplay Activities by Dimension 525
References 547
Publications About Theraplay and the Marschak Interaction Method (MIM) 563
Index 593
See More
Phyllis B. Booth is clinical director of The Theraplay Institute in Chicago. Sheprovides training and supervision for Theraplay therapists throughout the world.
Ann M. Jernberg was the founder and director of The Theraplay Institute until her death in 1993. She provided the inspiration for the Theraplay approach and was theauthor of the first edition of this book.
The Theraplay Institute is an international not-for-profit organization dedicated to building strong families and emotionally healthy children and adults through training, treatment, advocacy, and research. The Institute also holds an international conference every other year, sponsors a research network, publishes a biannual newsletter, and can be contacted at www.theraplay.org.
See More