Quality by Design for Biopharmaceuticals: Principles and Case Studies
ISBN: 978-0-470-28233-5
328 pages
June 2009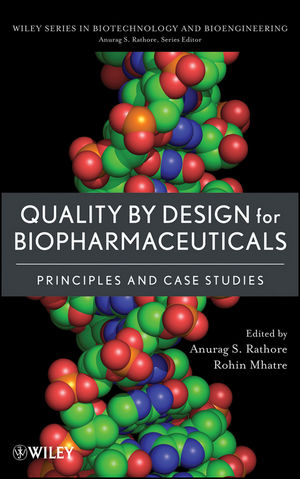 The concepts, applications, and practical issues of Quality by Design
Quality by Design (QbD) is a new framework currently being implemented by the FDA, as well as EU and Japanese regulatory agencies, to ensure better understanding of the process so as to yield a consistent and high-quality pharmaceutical product. QbD breaks from past approaches in assuming that drug quality cannot be tested into products; rather, it must be built into every step of the product creation process.
Quality by Design: Perspectives and Case Studies presents the first systematic approach to QbD in the biotech industry. A comprehensive resource, it combines an in-depth explanation of basic concepts with real-life case studies that illustrate the practical aspects of QbD implementation.
In this single source, leading authorities from the biotechnology industry and the FDA discuss such topics as:
The understanding and development of the product's critical quality attributes (CQA)
Development of the design space for a manufacturing process
How to employ QbD to design a formulation process
Raw material analysis and control strategy for QbD
Process Analytical Technology (PAT) and how it relates to QbD
Relevant PAT tools and applications for the pharmaceutical industry
The uses of risk assessment and management in QbD
Filing QbD information in regulatory documents
The application of multivariate data analysis (MVDA) to QbD
Filled with vivid case studies that illustrate QbD at work in companies today, Quality by Design is a core reference for scientists in the biopharmaceutical industry, regulatory agencies, and students.
See More
Foreword xiii
Preface xv
Preface to the Wiley Series on Biotechnology and Related Topics xvii
Contributors xix
1 QUALITY BY DESIGN: AN OVERVIEW OF THE BASIC CONCEPTS 1
Rohin Mhatre and Anurag S. Rathore
1.1 Introduction 1
1.2 Critical Quality Attributes 2
1.3 An Overview of Design Space 3
1.4 Raw Materials and their Impact on QbD 4
1.5 Process Analytical Technology 4
1.6 The Utility of Design Space and QbD 5
1.7 Conclusions 7
2 CONSIDERATIONS FOR BIOTECHNOLOGY PRODUCT QUALITY BY DESIGN 9
Steven Kozlowski and Patrick Swann
2.1 Introduction 9
2.2 Quality by Design 10
2.3 Relevant Product Attributes 11
2.4 Manufacturing Process 14
2.5 Developing a Design Space 18
2.6 Uncertainty and Complexity 22
2.7 Future Horizons 23
2.8 QbD Submission Thoughts 25
2.9 Implementation Plans 26
2.10 Summary 27
3 MOLECULAR DESIGN OF RECOMBINANT MALARIA VACCINES EXPRESSED BY Pichia pastoris 31
David L. Narum
3.1 Introduction 31
3.2 The Malaria Genome and Proteome 34
3.3 Expression of Two Malaria Antigens in P. pastoris 34
3.4 Summary 46
4 USING A RISK ASSESSMENT PROCESS TO DETERMINE CRITICALITY OF PRODUCT QUALITY ATTRIBUTES 53
Mark A Schenerman, Milton J. Axley, Cynthia N. Oliver, Kripa Ram, and Gail F. Wasserman
4.1 Introduction 53
4.2 Examples of Criticality Determination 60
4.3 Conclusion 81
5 CASE STUDY ON DEFINITION OF PROCESS DESIGN SPACE FOR A MICROBIAL FERMENTATION STEP 85
Pim van Hoek, Jean Harms, Xiangyang Wang, and Anurag S. Rathore
5.1 Introduction 85
5.2 Approach Toward Process Characterization 87
5.3 Risk Analysis 88
5.4 Small-Scale Model Development and Qualification 89
5.5 Design of Experiment Studies 94
5.6 Worst Case Studies 96
5.7 Definition of Design Space 99
5.8 Definition of Validation Acceptance Limits 103
5.9 Regulatory Filing, Process Monitoring, and Postapproval Changes 106
6 APPLICATION OF QbD PRINCIPLES TO TANGENTIAL FLOW FILTRATION OPERATIONS 111
Peter K. Watler and John Rozembersky
6.1 Introduction 111
6.2 Applications of TFF in Biotechnology 113
6.3 Tangential Flow Filtration Operating Principles 113
6.4 TFF Design Objectives 115
6.5 Membrane Selection 115
6.6 TFF Operating Parameter Design 118
6.7 TFF Diafiltration Operating Mode Design 122
6.8 Summary 125
7 APPLICATIONS OF DESIGN SPACE FOR BIOPHARMACEUTICAL PURIFICATION PROCESSES 127
Douglas J. Cecchini
7.1 Introduction 127
7.2 Establishing Design Space for Purification Processes during Process Development 128
7.3 Applications of Design Space 131
7.4 Cell Harvest and Product Capture Steps 131
7.5 Protein A Capture Column 136
7.6 Hydrophobic Interaction Chromatography 137
7.7 Anion Exchange Chromatography 138
7.8 Summary 141
8 VIRAL CLEARANCE: A STRATEGY FOR QUALITY BY DESIGN AND THE DESIGN SPACE 143
Gail Sofer and Jeffrey Carter
8.1 Introduction 143
8.2 Current and Future Approaches to Virus Clearance Characterization 143
8.3 Benefits of Applying Design Space Principles to Virus Clearance 144
8.4 Technical Limitations Related to Adoption of QdB/Design Space Concepts in Virus Clearance 145
8.5 Developing a Virus Clearance Design Space 148
8.6 Staying in the Design Space 156
8.7 Conclusion 157
9 APPLICATION OF QUALITY BY DESIGN AND RISK ASSESSMENT PRINCIPLES FOR THE DEVELOPMENT OF FORMULATION DESIGN SPACE 161
Kingman Ng and Natarajan Rajagopalan
9.1 Introduction 161
9.2 Quality by Design (QbD) Approach 162
9.3 Target Product Profile (TPP) 163
9.4 Molecular Degradation Characterization 164
9.5 Active Pharmaceutical Ingredient (API) Critical Properties 166
9.6 Preformulation Characterization 167
9.7 Initial Formulation Risk Assessments 168
9.8 Formulation Optimization and Design Space 169
9.9 Selection of Solution Formulation Composition 171
9.10 Summary 173
10 APPLICATION OF QbD PRINCIPLES TO BIOLOGICS PRODUCT: FORMULATION AND PROCESS DEVELOPMENT 175
Satish K. Singh, Carol F. Kirchhoff, and Amit Banerjee
10.1 Introduction: QbD in Biologics Product Development 175
10.2 Risk Assessment Process 177
10.3 Examples 178
10.4 Conclusions 191
11 QbD FOR RAW MATERIALS 193
Maureen Lanan
11.1 Introduction 193
11.2 Background 194
11.3 Current Practice for Raw Materials 195
11.4 QbD in Development 195
11.5 QbD in manufacturing 196
11.6 QbD for organizations 197
11.7 Tests Available 197
11.8 Conclusions and Future Prospects 207
12 PAT TOOLS FOR BIOLOGICS: CONSIDERATIONS AND CHALLENGES 211
Michael Molony and Cenk Undey
12.1 Introduction 211
12.2 Cell Culture and Fermentation PAT Tools 214
12.3 Purification PAT Tools 223
12.4 Formulation PAT Tools 228
12.5 PAT Tools for Bioprocess Starting Materials, Defined Media, and Complex Raw Materials 230
12.6 Chemometrics and Advanced Process Control Tools 232
12.7 The power of PLS and PCA 233
12.8 "Relevant Time"Column Integrity Monitoring (Moments Analysis versus HETP) 240
12.9 Challenges for Implementation of PAT Tools 244
12.10 Future PAT Tools 247
13 EVOLUTION AND INTEGRATION OF QUALITY BY DESIGN AND PROCESS ANALYTICAL TECHNOLOGY 255
Duncan Low and Joseph Phillips
13.1 Introduction 255
13.2 Evolution of PAT and Quality by Design (QbD): Emerging Guidelines and Standards 256
13.3 Process Analytical Technology (PAT) 261
13.4 Quality by Design 263
13.5 Implementing QbD and PAT 266
13.6 Conclusions 282
Acknowledgments 283
References 283
Index 287
See More
Anurag S. Rathore
received his PhD in chemical engineering from Yale University and is the Director of Process Development, Amgen Inc. His areas of interest include process development, scale-up, technology transfer, process validation, process analytical technology, and quality by design. He has authored more than 100 publications and presentations in these areas and serves on the editorial advisory boards for
Biotechnology Progress, BioPharm International, Pharmaceutical Technology Europe, Journal of Biochemical and Biophysical Methods, and Separation and Purification Reviews
.
Rohin Mhatre is a Senior Director in the BioProcess Development department at Biogen Idec, Cambridge, Massachusetts, and has been with the company since 1996. His group is responsible for development of analytical methods and product characterization to support the process and formulation development of early and late stage clinical programs. Mhatre is also leading the QbD initiative within Biogen Idec. He has authored several publications and been an invited speaker to numerous scientific meetings.
See More
More in this series