The Effective Public Manager: Achieving Success in a Changing Government, 4th Edition
ISBN: 978-0-470-28244-1
416 pages
September 2008, Jossey-Bass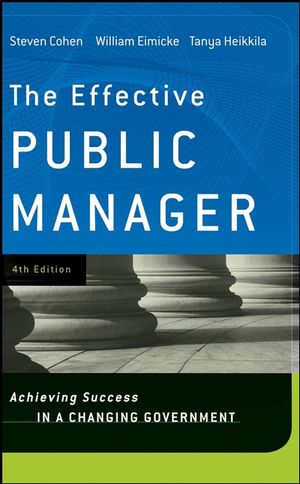 Since it was first published more than twenty years ago, The Effective Public Manager has become the classic resource for public administrators and students. The fourth edition of groundbreaking work synthesizes the current thinking in the field and presents practical lessons and tools in a highly accessible format. Focused on helping real-world managers and managers-to-be meet the demands of their jobs head-on rather than working around the constraints of government, this book offers a fresh approach to implementing effective management tools in a dynamic political, organizational, economic, and technological context.
See More
Preface ix
The Authors xxv
1. The Perpetual Crisis in Public Management 1
2. Defi ning Effective Public Management 19
3. How to Find and Keep Good People 45
4. Developing Effective Working Relationships 89
5. Structuring Systems, Tasks, and Responsibilities 107
6. Understanding and Applying Innovation Strategies in the Public Sector 137
7. The Art and Craft of Contracting 171
8. Gathering, Organizing, and Using Information 189
9. Mastering the Budgetary Process 225
10. Shaping Organizational Goals and Strategies 253
11. Communicating with the Public, the Media, and Stakeholders 287
12. Surviving and Thriving in Public Service 323
References 345
Additional Resources 363
Index 365
See More
Steven Cohen
is the director of the Master's Program in Environmental Science & Policy at the School of International and Public Affairs and the executive director of the Earth Institute at Columbia University.
William Eimicke is the director of the Picker Center for Executive Education at Columbia University's School of International?and Public Affairs.
Tanya Heikkila is an assistant professor at Columbia University's School of International?and Public Affairs.
See More
Includes updated case studies and lessons drawn from recent major public sector events

Addresses the trend toward multi-sectoral public service delivery and the resulting operational challenges

Discusses innovation and cross-sector collaboration

Contains new reflections on accountability, transparency, and crisis communication
See More
Learn more about