Nine-Language Dictionary of Polymers and Composites
ISBN: 978-0-470-28248-9
1086 pages
April 2008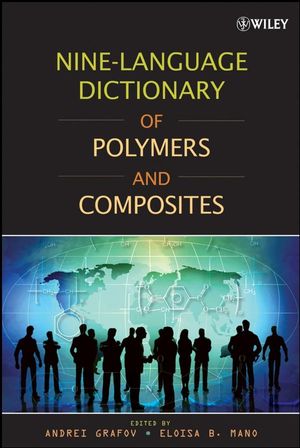 This dictionary provides a tool for translating research results, promotes the exchange of information, and enhances scientists? understanding of the wealth of data published in different languages. It includes 7,000 terms translated into nine languages: English, Chinese, French, Italian, Japanese, Portuguese, Russian, Spanish, and Ukrainian. The book covers all polymer-related subject areas, including chemistry, physical chemistry, physics, spectroscopy, microscopy, theoretical models, polymer-based composites and nanocomposites, polymer and composite processing, and related equipment, tools, and standard testing techniques.
See More
List of Contributors.
Preface.
Prefaces to National Language Versions.
Scientific and Lexicographic References.
Structure of the Dictionary.
Nine Language Dictionary.
National Language Keys.
Annex 1 English and National abbreviations.
Annex 2 Standard testing techniques.
See More
Andrei Grafov, PhD, DrSc, is a visiting professor at the University of Helsinki, Finland. He is a Full Professor at V.I. Vernadsky Institute of General and Inorganic Chemistry of the National Academy of Sciences in Kiev, Ukraine. Professor Grafov is a Fellow of the Royal Society of Chemistry.
Dr. Eloisa B. Mano is Professor Emeritus at the Institute of Macromolecules, atthe Federal University of Rio de Janeiro (FURJ), Brazil. She is the founder of the institute which is now named in her honor—the Professor Eloisa Mano Institute of Macromolecules of the FURJ. Professor Mano is a Fellow of the Society of Plastics Engineers and of the Brazilian Academy of Sciences.
See More