Textbook
Qualitative Research: A Guide to Design and Implementation
ISBN: 978-0-470-28354-7
320 pages
April 2009, ©2009, Jossey-Bass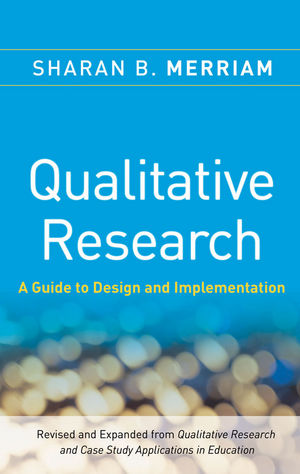 Praise for the Third Edition of
Qualitative Research
:
"Sharan B. Merriam synthesizes twenty years of developments in qualitative research with clarity and acumen."
Michael Quinn Patton, author, Qualitative Research and Evaluation Methods
"Here is a qualitative research methods book that reinforces the connection between professional experience and qualitative inquiry."
Robert Stake, author, The Art of Case Study Research and Multiple Case Study Analysis
"In this new edition, Sharan Merriam once again presents the world of qualitative research in language engaging and accessible?for new and experienced readers alike. If you can have only one book about qualitative research, this is it!"
Patricia M. Reeves, associate professor, School of Social Work, University of Georgia
"Mystified by qualitative research? You couldn't ask for a better guide than Sharan Merriam, who introduces you to the fundamental concepts of this research method, explains its complex forms, and then shows you exactly how to do a high-quality qualitative study."
M. Carolyn Clark, coeditor, The International Journal of Qualitative Studies in Education
See More
Preface.
The Author.
PART ONE: THE DESIGN OF QUALITATIVE RESEARCH.
1. What Is Qualitative Research?
2. Types of Qualitative Research.
3. Qualitative Case Study Research.
4. Designing Your Study and Selecting a Sample.
PART TWO: COLLECTING QUALITATIVE DATA.
5. Conducting Effective Interviews.
6. Being a Careful Observer.
7. Mining Data from Documents.
PART THREE: ANALYZING AND REPORTING QUALITATIVE DATA.
8. Qualitative Data Analysis.
9. Dealing with Validity, Reliability, and Ethics.
10. Writing Qualitative Research Reports.
Appendix: The Methodology Section of a Qualitative Research Study.
References.
Index.
See More
Sharan B. Merriam is professor of adult education at the University of Georgia. She is the author, coauthor, or editor of numerous books, including Learning in Adulthood, The Profession and Practice of Adult Education, and Third Update on Adult Learning Theory (New Directions for Adult and Continuing Education).
See More
Learn more about