Keynes and the Market: How the World's Greatest Economist Overturned Conventional Wisdom and Made a Fortune on the Stock Market
ISBN: 978-0-470-28496-4
212 pages
November 2017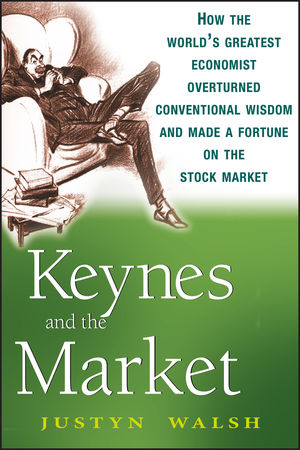 Keynes and the Market is an entertaining guide to John Maynard Keynes– amazing stock market success. It weaves the economist's value investing tenets around key events in his richly lived life. This timely book identifies what modern masters of the market have taken from Keynes and used in their own investing styles–and what you too can learn from one of the greatest economic thinkers of the twentieth century. If you want to profit in today's turbulent stock market the techniques outlined here will put you in a better position to succeed.
See More
Introduction.
Chapter 1: The Apostle Maynard.
Chapter 2: Citizen Keynes.
Chapter 3: Snap, Old Maid, and Musical Chairs.
Chapter 4: The Reckoning.
Chapter 5: Raising a Dust.
Chapter 6: Animal Spirits.
Chapter 7: Game Players.
Chapter 8: Searching for Stunners.
Chapter 9: Safety First.
Chapter 10: Leaning Into the Wind.
Chapter 11: Being Quiet.
Chapter 12: Eggs in One Basket.
Chapter 13: A Sense of Proportion.
Chapter 14: Post Mortem.
Notes.
Index.
Acknowledgments.
About the Author.
See More
JUSTYN WALSH is a Director at investment bank Renaissance Capital and is based in London and Moscow. Prior to his career in investment banking, he worked as a corporate lawyer and financial journalist. Keynes and the Market is his first book.
See More