Enzyme Technologies: Pluripotent Players in Discovering Therapeutic Agent
ISBN: 978-0-470-28626-5
356 pages
January 2014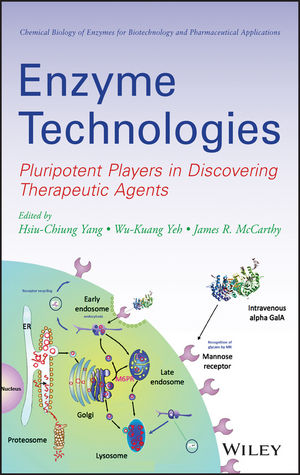 Sets the stage for advances in drug discovery using the latest enzyme technology
Reviewing new and emerging applications of enzyme technology in drug discovery, this book highlights some of the most promising areas of pharmaceutical and biotechnology research. It covers enzyme assay technology, utilization of enzymology for prodrug design, and the application of enzymes as therapeutic agents. Expert reviews highlight how our latest understanding of enzymology is used to develop new practical applications in drug discovery and design.
Filled with case studies, Enzyme Technologies: Pluripotent Players in Discovering Therapeutic Agents enables readers to better understand the diverse functions of enzymes and master specific applications in drug discovery research. In addition to small molecule drug discovery, the book explores new developments in enzymes as therapeutic agents for genetic disorders.
Section A, Enzymes – Essential Workhorses in Pharmaceutical Research, offers support in selecting the best enzyme targets for drug discovery, designing enzyme inhibitors for therapeutic agents, and evaluating selective enzyme inhibitors.
Section B, Enzymes – Indispensable Tools for Improving Druggability, sets forth the principles alongside real-world examples of exploiting specific properties of enzymes to design successful prodrugs.
Section C, Enzymes – Powerful Weapons for Correcting Nature's Errors, provides new insights on applying enzymes as therapeutic agents or diagnostic tools to treat genetic disorders.
Chapters are contributed by leading experts from around the world. Their contributions are based on a thorough review of the current literature as well as their own research.
Reviewing our latest understanding of the nature of enzymes and their role in drug discovery, this book is recommended for researchers in pharmaceuticals and biotechnology as well as for researchers in enzymology, biochemistry, molecular biology, and medicinal chemistry.
See More
Contributors vii
Preface ix
Part A _Enzymes – essential workhorses in pharmaceutical research 1
1 Assay Technologies for Proteases 3
Anuradha Roy, Gerald H. Lushington, James McGee, and Rathnam Chaguturu
2 Discovery and Development of Isozyme-Selective Inhibitors Involved in Lipid Metabolism 55
Taichi Ohshiro and Hiroshi Tomoda
3 Covalent Enzyme Inhibition in Drug Discovery and Development 81
Shujaath Mehdi
4 Preclinomics: Enzyme Assays and Rodent Models for Metabolic diseases 131
Wu-Kuang Yeh and Richard G. Peterson
Part B _Enzymes – indispensable tools for improving druggability 163
5 Enzymes and Targeted Activation of Prodrugs 165
Yanhui Yang, Yu Chen, Herve Aloysius, Daigo Inoyama, and Longqin Hu
6 Evolution of an Orally Active Prodrug of Gemcitabine 237
James R. McCarthy
7 Enzymatically Activated Phosphate and Phosphonate Prodrugs 253
Ivan S. Krylov and Charles E. McKenna
Part C E nzymes – powerful weapons for correcting Nature's errors 301
8 Treatment Options for Mucopolysaccharidosis Type II (Hunter's Syndrome) 303
Michael Beck
9 Enzyme Replacement Therapy for Fabry Disease 321
Ley Nadine Lacbawan, Wei Zheng, and Ozlem Goker-Alpan
10 Methods and Principles of Pancreatic Function Tests 335
Henrike von Schassen, Jutta Keller, and Peter Layer
Index 341
See More
HSIU-CHIUNG YANG, PhD, is Research Advisor at Eli Lilly and Company. She is the author or coauthor of over forty publications and holder of two patents.
WU-KUANG YEH, PhD, is Adjunct Professor at Indiana University Purdue University Indianapolis (IUPUI), and was Director of Research and Principal Investigator at PreClinOmics, Inc. The holder of six U.S. patents, Dr. Yeh is the author or coauthor of over 115 publications.
JAMES R. McCARTHY, PhD, is Research Professor in the department of chemistry and chemical biology at Indiana University Purdue University Indianapolis (IUPUI), and was a Distinguished Research Fellow at Eli Lilly and Company. He is the author or coauthor of over 130 publications and holder of over sixty patents.
See More