Electronics For Dummies, 2nd Edition
ISBN: 978-0-470-28697-5
432 pages
September 2009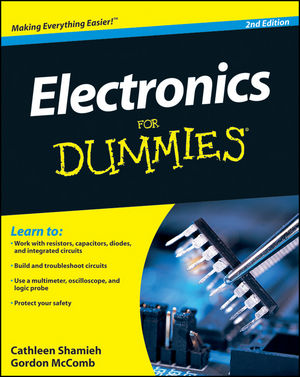 Electronics is fascinating – want to make something of it? This book shows you how!
You can make all sorts of things, once you understand what electronics is and how it works.   This book helps you out with that part, explaining the whole thing in plain English. Learn how electricity functions, how to harness it and put it to work, what tools you need to build circuits, what you can make with them, and how to do it safely.
Mystery solved – understand what makes your iPod, remote control, and computer work
Essential stuff – outfit your electronics lab with all the necessary tools, including some that will surprise you
Schematic road maps – learn to read schematics and understand how they help your project get where it's going
Symbols of power – recognize all the identifiers for power sources, grounds, and components
Tools of the trade – discover how to use a multimeter, logic probe, oscilloscope, and solderless breadboard
Break it down – get to know the ins and outs of components such as resistors, capacitors ,diodes and transistors
Getting it together – find out how integrated circuits make all the rest possible and learn to work with them
& Analyze it – understand the rules that govern current and voltage and learn how to apply them
Open the book and find:
The difference between electronics and electricity
A list of essential tools
Cool projects you can build quickly
Great places to find parts
Important safety tips
What a sine wave is
Interesting stuff about speakers, buzzers, and DC motors
Ohm's Law and how to use it
See More
Introduction 1
Part I: Understanding the Fundamentals of Electronics 7
Chapter 1: What Is Electronics and What Can It Do for You? 9
Chapter 2: Manipulating Electricity to Make Something Happen 21
Chapter 3: Meeting Up with Resistance 39
Chapter 4: Getting a Charge Out of Capacitors 65
Chapter 5: Curling Up with Coils and Crystals 91
Chapter 6: The Wide World of Semiconductors 111
Chapter 7: Packing Parts Together on Integrated Circuits 143
Chapter 8: Rounding Out Your Parts List 169
Part II: Getting Your Hands Dirty 191
Chapter 9: Setting Up Shop and Ensuring Your Safety 193
Chapter 10: Reading Schematics219
Chapter 11: Constructing Circuits 239
Chapter 12: Measuring and Analyzing Circuits 259
Chapter 13: Getting Down with Logic Probes and Oscilloscopes 281
Part III: Putting Theory into Practice 301
Chapter 14: Exploring Some Learning Circuits 303
Chapter 15: Great Projects You Can Build in 30 Minutes or Less327
Part IV: The Part of Tens 351
Chapter 16: Ten (Or So) Terrific Tips to Help You Succeed 353
Chapter 17: Ten (Or So) Great Electronics Parts Sources 363
Appendix: Internet Resources 369
Glossary 375
Index 387
See More
Cathleen Shamieh is a high-tech writer with extensive engineering and consulting experience in the fields of medical electronics, speech processing, and telecommunications. Gordon McComb writes the Robotics Resources column for SERVO Magazine, the leading hobby electronics magazine in the US.
See More