Water Treatment Plant Performance Evaluations and Operations
ISBN: 978-0-470-28861-0
308 pages
February 2009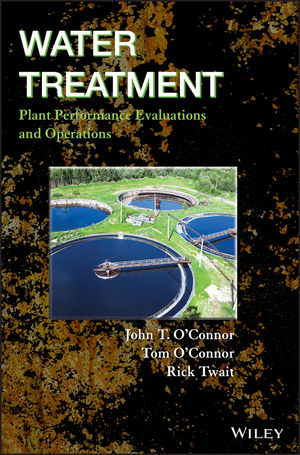 Water treatment is a growing field in North America, with seventy US states and localities and ten Canadian provinces requiring certification for water treatment plant operators. This book provides a step-by-step look at the most current water treatment technologies, balancing academic theory and professional practice. A compilation of studies conducted over the past decade at the Bloomington, Illinois Water Treatment Plant, it presents studies that are useful as templates for comparable long-term studies at other water utilities. This is an unparalleled gathering of techniques, processes, and data, including test results for every potential taste and odor control method.
See More
Preface ix
1 Microscopic Particle Analysis 1
Bloomington Water Sources and Treatment Plant Processes 3
Number of Bacterial Cells in Natural and Treated Waters 11
Results of Microscopic Enumeration 11
Comparative Evaluation of Lime Softener/Clarifiers 14
Effect of Backwash on Filter Performance 14
Electronic Particle Counting for Evaluation of Filter Performance 18
Photomicrographs Using Epifluorescence Microscopy 19
Light Microscopy 20
References 20
2 Plant Process Evaluations 23
Particles Observed at Various Water Treatment Stages 23
Improving Filter Performance Following Backwash 26
References 32
3 Lime Softening 33
Plant Performance Evaluations 33
Removal of Organic Matter 40
Reference 40
4 Acidification Protocol 41
Regulation of Turbidity as a Microbiological Surrogate 41
Advanced Analytical Methods for Evaluation of Water Treatment Plant Performance 42
Formation of Particles During Treatment 44
Implications for Assessment of Water Treatment Plant Process Efficiency 46
Interim Enhanced Surface Water Treatment Rule 46
Acidification 47
Acidification Protocol 50
Alternate Exceedance Levels 51
References 51
5 Filter Operations 53
Particle Removal During Filtration 53
The Bloomington Filters 53
Filter Operations 57
Granular Activated Carbon Performance and Characteristics 60
Filter Media Size Distribution 64
Microbial Growth on Filter Media 68
Filter Effluent: Calcium Carbonate Post-Precipitation 70
Filter Washing 71
Procedure for Evaluating Biological Activity on Filter Media 73
Recommended Testing of Auxiliary Air Scour 73
References 74
6 Grit Removal 75
Gritting 76
ClariCone Settling Velocities Versus Applied Flow 81
Grit Removal Modification 83
Recarbonation Following Slurry Blanket Upset 85
Particle Size Analysis: Effect of Gritting 87
Post Grit 88
pH and Conductivity 89
Effect of Grit Removal on Blanket Stability 91
Revised Grit Removal Protocol 91
7 Lime Softener Performance Enhancements 95
Modified Lime Slurry Feed Points 95
Evaluation of Grit Removal Process 97
Reduction in Blanket Upsets Lime Overfeeds and Carbon Dioxide Requirements 100
Recarbonation Basins: Post-Precipitation Particle Size Analysis 100
Results of the Evaluation of the Gritting Process 102
Evaluation of the Inline Degritter 103
8 Lime Softener Operational Enhancements 107
Treatment Chemistry 108
Flow Rates to ClariCones 108
Energy Input to Impart Spiral Flow 109
Modification of Kinetic Energy Input 110
Effect of Gritting on Slurry Blanket 111
Effect of Blowdown on Sludge Blanket 112
Frequency of Intense Cleaning 112
Maintenance of Lime Delivery System 114
9 Granular Activated Carbon 117
Benefits of Granular Activated Carbon 117
Costs of Carbon 118
Reference 120
10 Plant Operations Manual 121
Development of Operations Manual and Guidelines Documents 121
Bloomington Water Supply History 121
Water Treatment Plant Processes 128
Laboratory Facilities 151
Shop Facilities 152
Operator's Laboratory 154
Communications Between Operators and Operational Continuity 154
Future Development of Operational Guidelines 155
Reference 155
11 Taste-and-Odor Control 157
Nutrient Sources and Organism Growth 158
Laboratory Capabilities for Assessing Lake and Treated Water Quality 159
Destratification 162
Lake Source Water Protection 163
Odor Control: Operating Procedures and Processes 164
Finished Water Taste and Odor Monitoring 165
Operational Alternatives 165
Evaluation of Potential for Modified or Enhanced Treatment Process 165
Biodegradation: Bloomington's Water Treatment Plant Operations Manual 169
Microscopic Examination and Description of Micrographs 170
Taste and Odor Remission and PAC Studies 171
Dominant Organisms in Evergreen Lake 172
Potential Future Trials 172
References 172
12 GAC Adsorption and Microbial Degradation 175
Removal of Geosmin on GAC 175
Removal of Geosmin Using Ozonated Air 181
Lake Water Monitoring for Geosmin and MIB 183
Follow-up Study of Temperature Effects 186
Ultraviolet Light plus Hydrogen Peroxide 187
Early Detection and Control of Impending Taste-and-Odor Episodes at Evergreen Lake 189
Implications for Plant Operational Control 190
Appendix A: Procedures for Total Bacterial Cell Count by Epifluorescence Microscopy 193
Appendix B: Potential Studies Involving Microscopic Particle Analysis: Particle Identification Enumeration and Sizing 199
Appendix C: Development of Operator Guidelines 203
Index 235
See More
Dr. John T. O'connor, PE, is the CEO of H
2
O'C Engineering in Columbia, Missouri (www.h2oc.com). He earned his BS in civil engineering from The Cooper Union and his doctorate in engineering from The Johns Hopkins University. He has also served as the chief of the Illinois State Water Survey and as chairman of the Department of Civil Engineering at the University of Missouri-Columbia. Dr. O'Connor has authored over 100 technical publications related to water quality and treatment.
Tom O'connor, PE, is a principal of H2O'C Engineering in Columbia, Missouri (www.h2oc.com). He earned a bachelor's degree in electrical engineering and a master's in business administration from the University of Missouri; is an expert in environmental and energy issues; and specializes in the design, evaluation, optimization, and modeling of water and wastewater systems.
Rick Twait earned a bachelor's degree in environmental science from Bradley University and is Superintendent of Water Purification at the Bloomington, Illinois, Water Treatment Plant. He is an aquatic biologist, limnologist, and former researcher at the Illinois State Water Survey.
See More