Water Treatment Plant Performance Evaluations and Operations
ISBN: 978-0-470-28861-0
308 pages
February 2009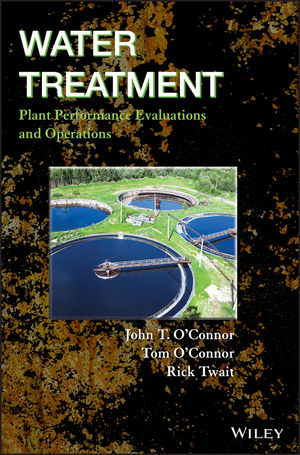 Water treatment is a growing field in North America, with seventy US states and localities and ten Canadian provinces requiring certification for water treatment plant operators. This book provides a step-by-step look at the most current water treatment technologies, balancing academic theory and professional practice. A compilation of studies conducted over the past decade at the Bloomington, Illinois Water Treatment Plant, it presents studies that are useful as templates for comparable long-term studies at other water utilities. This is an unparalleled gathering of techniques, processes, and data, including test results for every potential taste and odor control method.
See More
Preface.
Chapter 1. Microscopic Particle Analysis.
Chapter 2. Plant Process Evaluations.
Chapter 3. Lime Softening.
Chapter 4. Acidification Protocol.
Chapter 5. Filter Operations.
Chapter 6. Grit Removal.
Chapter 7. Lime Softener Performance Enhancements.
Chapter 8. Lime Softener Operational Enhancements.
Chapter 9. Granular Activated Carbon.
Chapter 10. Plant Operations Manual.
Chapter 11. Taste-and-Odor Control.
Chapter 12. GAC Adsorption and Microbial Degradation.
Appendix A. Procedures for Total Bacterial Cell Count by Epifluorescence Microscopy.
Appendix B. Potential Studies Involving Microscopic Particle Analysis: Particle Identification, Enumeration, and Sizing.
Appendix C. Development of Operator Guidelines
Index.
See More
Dr. John T. O'connor, PE, is the CEO of H
2
O'C Engineering in Columbia, Missouri (www.h2oc.com). He earned his BS in civil engineering from The Cooper Union and his doctorate in engineering from The Johns Hopkins University. He has also served as the chief of the Illinois State Water Survey and as chairman of the Department of Civil Engineering at the University of Missouri-Columbia. Dr. O'Connor has authored over 100 technical publications related to water quality and treatment.
Tom O'connor, PE, is a principal of H2O'C Engineering in Columbia, Missouri (www.h2oc.com). He earned a bachelor's degree in electrical engineering and a master's in business administration from the University of Missouri; is an expert in environmental and energy issues; and specializes in the design, evaluation, optimization, and modeling of water and wastewater systems.
Rick Twait earned a bachelor's degree in environmental science from Bradley University and is Superintendent of Water Purification at the Bloomington, Illinois, Water Treatment Plant. He is an aquatic biologist, limnologist, and former researcher at the Illinois State Water Survey.
See More