Fiscal Hangover: How to Profit From The New Global Economy
ISBN: 978-0-470-28914-3
Hardcover
333 pages
November 2009
US $29.95

Add to Cart
This price is valid for United States. Change location to view local pricing and availability.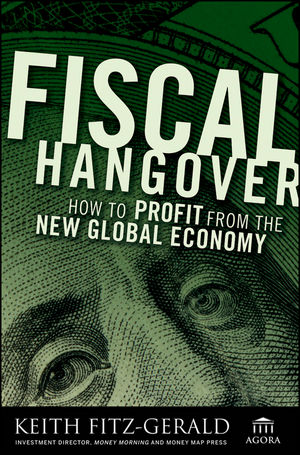 Other Available Formats:
E-book
November 17, 2009
Fiscal Hangover
Connect with Wiley Publicity
For the first time in 200 years, American consumers are no longer the driving force behind the world's economy. And now, with FISCAL HANGOVER (Wiley, November 2009, $29.95; 978-0-470-28914-3; Hardcover), Keith Fitz-Gerald—one of the world's leading experts on global investing—picks apart every important change and identifies the unprecedented opportunities arising right now. Investors will discover how the U.S. role in the world economy is shrinking at unheard-of rates; how and why government intervention may well prevent the U.S. markets from normalizing for years to come; why Asia is already well on its way to becoming the next great financial center and why China's Yuan is quietly replacing the U.S. dollar as the world's reserve currency. Most importantly, they'll learn what to do right now to grab their share of the pie.
In FISCAL HANGOVER, Fitz-Gerald answers the following critical questions:
• Why are some nations set to reach new levels of prosperity and others doomed to mediocrity? Not all bailouts are the same. Understand which countries will profit and which will be hobbled for years to come.
• Why will Asia become the world's new financial center? Seemingly inconsequential changes on formerly primitive financial exchanges are enabling a ferocious new brand of capitalism that will cause even seasoned investors to reassess their game plan. And open up fabulous new opportunities to individual investors – beginning today!
• Why is it inevitable that U.S. companies will list in China? New international company listings on Chinese stock markets will serve as catalysts for a new Golden Age of Wealth… right here in the U.S.
• Is the U.S. doomed? Not necessarily. Learn why the inevitable changes already underway will actually make this country stronger and individual investors richer despite Washington's policies and efforts to screw things up… again.
• When should I own commodities? Fitz-Gerald points out why basic materials should be a permanent part of every investor's retirement plan. And gives you a simple easy way to own gold as it heads to new highs.
• How can I reduce my risk right now? Wall Street's models are badly broken and may never work again in our lifetimes. Diversification is no longer enough to appropriately manage risk. Fitz-Gerald shares how to capture higher potential returns and avoid catastrophic losses for the rest of your life.
• What can I buy now that will help me sleep better at night? Fitz-Gerald offers a few of his favorite choices any investor can use to achieve peace of mind and a more stable portfolio – beginning tonight.