Real Estate Investing For Dummies, 2nd Edition
ISBN: 978-0-470-28966-2
408 pages
March 2009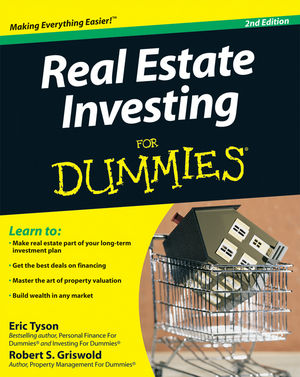 Real Estate Investing For Dummies, 2nd Edition, is completely revised and updated to help you overcome the challenges and and take advantage of the opportunities in any real estate environment, including a down market. But Eric Tyson and Robert Griswold's core message remains as relevant today as it did upon the initial publication of Real Estate Investing For Dummies -- investing in real estate is time-tested vehicle to build wealth in the long term. Tyson and Griswold don't tell you how to become a millionaire overnight. Instead, they offer proven, practical, and actionable advice so that if you chose to invest in income-producing properties, you can do so wisely and confidently.
See More
Introduction.
Part I: Stacking Real Estate Up Against Other Investments.
Chapter 1: Evaluating Real Estate as an Investment.
Chapter 2: Covering Common Real Estate Investments.
Chapter 3: Considering Foreclosures, REOs, Probate Sales, and More.
Chapter 4: Taking the Passive Approach.
Chapter 5: Fast Money: Small Down Payments and Property Flips.
Chapter 6: Building Your Team.
Part II: How to Get the Money: Raising Capital and Financing.
Chapter 7: Sources of Capital.
Chapter 8: Financing Your Property Purchases.
Chapter 9: Securing the Best Mortgage Terms.
Part III: Finding and Evaluating Properties.
Chapter 10: Location, Location, Value.
Chapter 11: Understanding Leases and Property Valuation.
Chapter 12: Valuing Property through Number Crunching.
Chapter 13: Preparing and Making an Offer.
Chapter 14: Due Diligence, Property Inspections, and Closing.
Part IV: Operating the Property.
Chapter 15: Landlording 101.
Chapter 16: Protecting Your Investment: Insurance and Risk Management.
Chapter 17: Recordkeeping and Accounting.
Chapter 18: Tax Considerations and Exit Strategies.
Part V: The Part of Tens.
Chapter 19: Ten (Plus) Ways to Increase a Property's Return.
Chapter 20: Ten Steps to Real Estate Investing Success.
Appendix: Sample Purchase Agreement.
Index.
See More
Eric Tyson
is a nationally recognized personal finance counselor, bestselling author, and syndicated columnist. He is the author of numerous bestselling For Dummies books on real estate, small business, personal finance, and investing.
Robert S. Griswold is a successful real estate investor and hands-on property manager with a large portfolio of residential and commercial rental properties.
See More