Textbook
Modern Batch Cookery
ISBN: 978-0-470-29048-4
448 pages
February 2011, ©2010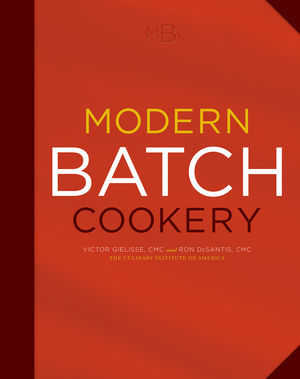 A complete guide to volume cooking for restaurants, caterers, hotels, and other large foodservice operations
Modern Batch Cookery offers up-to-date information with a focus on healthy cooking, nutrition, and smart menu planning. Preparing healthy, high-quality food in volume is a challenge for even the most experienced foodservice professional. Modern Batch Cookery provides the most contemporary and up-to-the-minute resource on the topic. The recipes are designed to yield 50 servings, and cover every meal part and occasion. Modern Batch Cookery contains more than the plain fare typical of institutional foodservice-these modern, delectable recipes include Gorgonzola and Pear Sandwiches, Tequila-Roasted Oysters, Chesapeake-Style Crab Cakes, and many more.
Features more than 200 healthy, nutritious, large-batch recipes
Includes chapters on Stocks, Sauces, and Soups; Breakfast and Brunch; Salads, Sandwiches, and Appetizers; EntrŽes; Side Dishes; and Baked Goods and Desserts
Provides pertinent information, including conversion charts and a glossary, as well as full-color photos of finished dishes that provide fresh ideas in plating and presentation
Covers all the essentials of menu and recipe development
Modern Batch Cookery is a comprehensive resource for chefs and foodservice operators working in schools, hospitals, nursing homes, banquet facilities, country clubs, and catering companies.
See More
List of Recipes.
Introduction.
chapter one The Culinary Professional.
chapter two Menus, Recipes, and Special Events.
chapter three The Importance of Flavor.
chapter four General Cooking Techniques.
chapter five Stocks, Soups, and Sauces for the Modern Batch Kitchen.
chapter six Recipes for Stocks, Soups, Sauces, and Basic Flavorings.
chapter seven Recipes for Breakfast and Brunch.
chapter eight Recipes for Salad Dressings, Salads, Sandwiches, and Appetizers.
chapter nine Recipes for Entrées.
chapter ten Recipes for Side Dishes.
chapter eleven Recipes for Baked Goods and Desserts.
chapter twelve Recipes for Reception Foods.
Glossary.
Appendix.
Index.
See More
Founded in 1946, The Culinary Institute of America is an independent, not-for-profit college offering bachelor's and associate degrees in culinary arts and baking and pastry arts, as well as certificate programs in culinary arts and wine and beverage studies. A network of more than 40,000 alumni has helped the CIA earn its reputation as the world's premier culinary college. The CIA, which also offers courses for industry professionals and food enthusiasts, has campuses in New York (Hyde Park), California (St. Helena), and Texas (San Antonio), as well as an additional location in Singapore.
See More