Jewelry and Beading Designs For Dummies
ISBN: 978-0-470-29112-2
320 pages
August 2008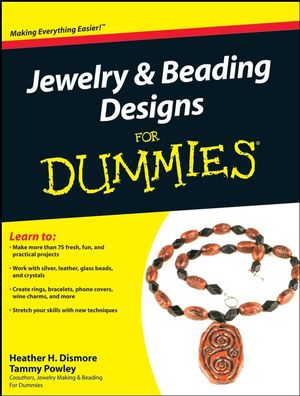 Do you love jewelry and beading? Would you like to know how to make chic jewelry and accessories?
Jewelry & Beading Designs for Dummies
is packed with patterns, step-by-step instructions, and inspiring color photos to get you stringing, knotting, and looping in no time. From earrings and necklaces to pins, purses, charms, and more, you'll discover new techniques for making just the right pieces to suit you — or give as fantastic, fashionable gifts!
This easy-to-follow visual guide speeds you right into the basics of jewelry making: assembling your gear; working with pliers; and fine-tuning your stringing, bead weaving, and wire wrapping skills. You'll use elastic cord, ribbon, leather, a wire jig, and more to make bracelets, bookmarks, pendants, and napkin rings. Before you know it, you'll take your skills to the next level and beyond, using multiple techniques and materials on thrilling and unconventional designs. Discover how to:
Make more than 75 fresh, fun, and practical projects
Hone your basic jewelry making skills
Work with silver, leather, glass beads, and crystals
Create rings, bracelets, phone covers, wine charms, and more
Use bead crimping, knotting, and weaving to make beautiful designs
Make stunning earrings and necklaces using a wire jig
Fabricate beads and wire components
Find nontraditional materials such as hardware, beach glass, and more
Add beauty, skill, and satisfaction to your life with a little help from Jewelry and Beading Designs For Dummies!
See More
Introduction.
Part I: Reinforcing Your Jewelry Foundation.
Chapter 1: Gearing Up.
Chapter 2: Brushing Up on Bead Stitches and Other Basics.
Part II: Super Simple Jewelry Projects.
Chapter 3: Simple Stringing Techniques.
Chapter 4: Bead Crimping.
Chapter 5: Bead Knotting.
Chapter 6: Bead-Weaving Stitches.
Chapter 7: A New Twist: Wire Jig Wrapping.

Chapter 8: It's a Wrap: Wire Wrapping.
Part III: Putting Your Jewelry Skills to the Test.
Chapter 9: Stepping It Up: Advancing Your Bead-Stringing Skills.
Chapter 10: Fabricating Bead and Wire Components.
Chapter 11: Bodacious Woven Bead Jewelry.
Chapter 12: Piecing It Together with Polymer Clay.
Part IV: Mixing It Up: Incorporating Multiple Techniques and Materials.
Chapter 13: Creating Non-Jewelry Beading Projects.
Chapter 14: Using Nontraditional Materials.
Part V: The Part of Tens.
Chapter 15: Ten Tips for Storing and Caring for Your Jewelry Creations.
Chapter 16: Ten Places to Peruse for Offbeat Jewelry-Making Materials.
Chapter 17: Ten Mistakes to Avoid When Expanding Your Jewelry Hobby.
Appendix: Jewelry and Beading Techniques.

Index.
See More
Heather H. Dismore
is a veteran
Dummies
author and editor who is actively involved in crafting jewelry.
Tammy Powley designs and manages content for About.com's jewelry-making Web site and is the author of numerous jewelry-making books and articles.
See More