E-book
67th Porcelain Enamel Institute Technical Forum: Proceedings of the 67th Porcelain Enamel Institute Technical Forum, Nashville, Tennessee, USA 2005, Ceramic Engineering and Science Proceedings, Volume 26, Number 9
ISBN: 978-0-470-29168-9
168 pages
September 2009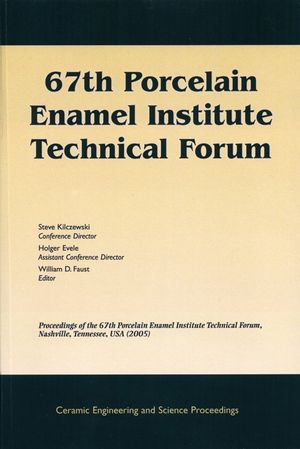 This proceedings contains 23 papers from the 67th Porcelain Enamel Institute Technical Forum, held in Nashville, Tennessee, May 2-5, 2005. Topics include: porcelain enamel history,automatic spray applications,effects of furnace moisture on enamel quality, low temperature cleaners, electrostatic powder deposition, energy market overview, and more.
See More
Six Decades of Porcelain Enameling (Robert Long).
Quality Improvement Techniques (Alan Woodward).
Foundry Process Controls for Porcelain Enameling Cast Iron (Liam O'Byrne).
Advancements in Automatic Spray Application of Porcelain Enamel (Mitchell Drozd).
Energy Market Overview and Outlook (Brian Habacivch).
The Strength of Steel; The Beauty of Glass (Warren Norton).
A Comparison of Enameled and Stainless Steel Surfaces (David Fedak and Charles Baldwin).
Continuous Improvement in the Process of Ceramic Pigments (Stan Sulewski).
High Temperature Corrosion Testing of Glass Lined Steel (Gary Griffith).
Powder Porcelain Booth Preventive Maintenance (Erik Miller).

The Effects of Dew Point on Porcelain Enamel Powder Coating Application (Frank J. O'Connor, II).

Furnace Radiant Tube Comparisons (Ray Gaul).

Effects of Furnace Moisture on Enamel Quality and Recommended Levels (Holger Evele).

Continuous Measurement of Furnace Moisture (Peter Vodak).

Preheated Combustion Air (Mike Horton).

Low Temperature Cleaners (Mark Godlweski).

Operating Issues for Successful Use of Ambient Cleaning Systems (Ken Kaluzny).

Update on Future Environmental Issues That Will Impact Your Industry for the PEI Environmental, Safety and Health Committee (Bill Nichols and Jack Waggener).

Porcelain Enamels With a Metallic Appearance (Charles Baldwin and Louis Gazo).

Two Coat - One Fire Wet Over Wet Systems (Sebastien Humez).

Thick Film Heated Oven with Low Energy Consumption (Helga Steinbrück, Srinivasan Sridharan, Petter Svanbom, Orville Brown, Sandrine Ringler, Keith Mason and Pieter Dijkstra).
See More
More in this series