Brink's Modern Internal Auditing: A Common Body of Knowledge, 7th Edition
ISBN: 978-0-470-29303-4
792 pages
April 2009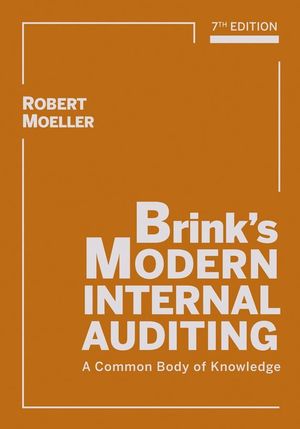 Today's internal auditor is responsible for creating higher standards of professional conduct and for greater protection against inefficiency, misconduct, illegal activity, and fraud. Now completely revised and updated, Brink's Modern Internal Auditing, Seventh Edition is a comprehensive resource and reference book on the changing world of internal auditing, including new coverage of the role of the auditor and internal control. An invaluable resource for both the new and seasoned internal auditor, the Seventh Edition provides auditors with the body of knowledge needed in order to be effective.
See More
Preface.
Part One Foundations of Modern Internal Auditing.
Chapter 1. Foundations of Internal Auditing.
Chapter 2. Internal Audit Common Body of Knowledge.
Part Two. Importance of Internal Controls.
Chapter 3. Internal Control Framework: The COSO Standard.
Chapter 4. Sarbanes-Oxley and Beyond.
Chapter 5. Another Internal Controls Framework: CobiT.
Chapter 6. Risk Management: COSO ERM.
Part Three. Planning and Performing Internal Audits.
Chapter 7. Performing Effective Internal Audits.
Chapter 8. Standards for the Professional Practice of Internal Auditing.
Chapter 9. Testing, Assessing, and Evaluating Audit Evidence.
Chapter 10. Audit Programs and Establishing the Audit Universe.
Chapter 11. Control Self-Assessments and Benchmarking.
Part Four. Organizing and Managing Internal Auditor Activities.
Chapter 12. Internal Audit Charters and Building the Internal Audit Function.
Chapter 13. Internal Audit Key Competencies.
Chapter 14. Understanding Project Management.
Chapter 15. Planning and Performing Internal Audits.
Chapter 16. Documenting Results Through Process Modeling and Workpapers.
Chapter 17. Reporting Internal Audit Results.
Part Five. Impact of Information Technology on Internal Auditing.
Chapter 18. IT General Controls and ITIL Best Practices.
Chapter 19. Reviewing and Assessing IT Application Controls.
Chapter 20. Cyber-Security and Privacy Controls.
Chapter 21. Computer Assisted Audit Tools and Techniques.
Chapter 22. Business Continuity Planning and IT Disaster Recovery.
Part Six. Internal Audit and Enterprise Governance.
Chapter 23. Board Audit Committee Communications.
Chapter 24. Ethics and Whistleblower Programs.
Chapter 25. Fraud Detection and Prevention.
Chapter 26. HIPAA, GLBA, and Other Compliance Requirements.
Part Seven. The Professional Internal Auditor.
Chapter 27. Professional Certification: CIA, CISA, and More.
Chapter 28. Internal Auditors as an Enterprise Consultant.
Chapter 29. Continuous Assurance Auditing and XBRL.
Chapter 30. ISO 27001, ISO 9000, and Other International Standards.
Chapter 31. Quality Assurance Auditing and ASQ Standards.
Chapter 32. Six Sigma and Lean Techniques.
Chapter 33. International Internal Auditing and Accounting Standards.
Chapter 34. CBOK for the Modern Internal Auditor.
Index.
See More
Robert R. Moeller (Evanston, IL), CPA, CISA, PMP, CISSP, is the founder of Compliance and control Systems Associates, a consulting firm that specialized in internal audit and project management with a strong understanding of information systems, corporate governance and security. He has over 30 years of experience in internal auditing, ranging from launching new internal audit functions in several companies to serving as audit director for a Fortune 50 corporation. He held positions with Grant Thornton (National Director of Computer Auditing) and Sears Roebuck (Audit Director). A frequently published author and professional speaker, Moeller provides insights into many of the new rules impacting internal auditors today as well as the challenges audit committees face when dealing with Sarbanes-Oxley, internal controls, and their internal auditors. Moeller is the former president of the Institute of Internal Auditor's Chicago chapter and has served on the IIA's International Advanced Technology Committee. He is also the former chair of the AICPA's Computer Audit Subcommittee.
See More