Mastering Revit Architecture 2009
ISBN: 978-0-470-29528-1
800 pages
September 2008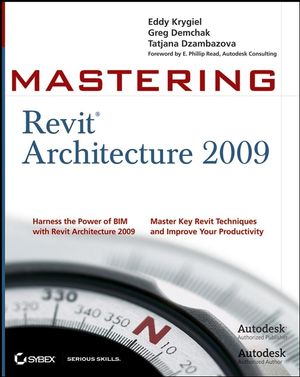 Move beyond the basics of Revit and BIM and redefine your designs with this new edition of
Mastering Revit Architecture
. With updated coverage of Revit Architecture 2009 features, this comprehensive guide will help you discover best practices and tips that will make your projects smoother and their implementation easier. You'll learn how applying key Revit and BIM priniciples to your designs will increase your productivity and improve your workflow plus develop a more thorough understanding of topics like design options and features, advanced modeling, and presentation techniques with the clear explanations and practical examples found in this book.
For Instructors: Teaching supplements are available for this title.
See More
1. Understanding BIM: From the Basics to Advanced Realities.
2. Revit Fundamentals.
3. Knowing your tools.
4. Setting up your templates and office standards.
5. Customizing system families and project settings in your template.
6. Modeling Principles in Revit I.
7. Modeling Principles in Revit II.
8. Concept Massing Study: Early Design Phase.
9. From Conceptual Mass to a Real Building.
10. Working with design options.
11. Creating Custom 3D Content.
12. Extended Modeling Techniques—Walls.
13. Extended Modeling Techniques—Roofs and Slabs.
14. Extended Modeling Techniques—Railings and Fences.
15. Presentation Techniques for Plans, Sections, and Elevations.
16. Presenting Perspective Views.
17. Areas and Schedules.
18. Evaluating your conceptual Designs: Sustainability.
19. Annotating Your Model.
20. Developing the designs: Smart workflows Pt1.
21. Moving from Design to Documentation.
22. Detailing and Coordination: Adding to Families.
23. Tracking changes in your model.
24. Worksharing.
See More
Eddy Krygiel is an Autodesk Authorized Author and registered architect at BNIM Architects. He has used Revit to complete projects of all scopes and sizes. Eddy is responsible for implementing BIM at his firm and also consults for other architecture and contracting firms looking to implement BIM. Greg Demchak is a product designer for Revit Architecture. He also teaches at Boston Architectural College and holds a master's degree in architecture from MIT. Tatjana Dzambazova is an internationally recognized AEC industry technology speaker. She was project manager for Revit Architecture for two years and previously practiced architecture for twelve years in Vienna and London.
See More
Learn more about