E-book
Executive Stamina: How to Optimize Time, Energy, and Productivity to Achieve Peak Performance
ISBN: 978-0-470-33537-6
320 pages
July 2008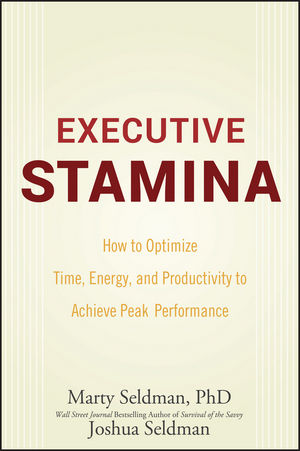 Executive Stamina combines the wisdom and methodology of the best executive coaching with the cutting-edge training techniques of world-class athletes to help busy, stressed-out executives achieve peak performance. This holistic approach to executive performance uses practical tips and tools to help you maximize your career potential, maintain your physical health, and stay aligned with your personal values. Executive Stamina is all you need to learn how to optimize your time, energy, and productivity to achieve more and live better.
See More
Introduction.
Part 1. WORK/LIFE ALIGNMENT- Core Values, Commitments, Current Priorities and Long Term Goals.
Chapter 1. What is most important to you?
Chapter 2. Is your schedule aligned with your priorities?
Chapter 3. The MINIMUMS and the SHIFTS/DRIFTS Systems.
Chapter Summary.
Chapter 4. Finding Your Career "Sweet Spot".
Chapter Summary.
Part 2. Building Your Stamina.
Chapter 5. The Impact of Stress.
 Executive Profile: Sam Su, President, YUM! Brands, China.
Chapter 6. Increasing Your Fitness.
Executive Profile: Eric Foss, CEO, Pepsi Bottling Group (PBG).
Executive Profile: Daniel Naor, Senior Vice President, Frito-Lay.
Chapter 7. Progressive Workout Plans.
Chapter 8. Nutrition.
Executive Profile: Tamar Elkeles, Chief Learning Officer, Qualcomm.
Chapter 9. Stress Management: Your Individual Plan.
Executive Profile: Melanie Macdonald, President and CEO, World Neighbors.
Chapter Summary: Your Stress Management Plan.
Chapter 10. Yoga at the Office.
Part 3. Optimizing Job Performance and Results.
Chapter 11. Identifying High Payoff Activities: What is the Best Use of Your Time.
Executive Profile, B. Ramalinga Raju, Chairman and CEO, Satyam Computer Services, Hyderabad, India.
Chapter 12. Taking Control of Your Calendar.
Chapter Summary.
Part 4. Career Management: Reaching Your Full Potential.
Chapter 13. Career Management: "Maxing Out" vs. "Topping Out".
Executive Profile: Mike White, CEO, PepsiCo International (PI), Vice Chairman, PepsiCo.
Chapter Summary.
Chapter 14. Avoiding Career Management Mistakes.
Executive Profile: Michael C. Feiner.
Chapter Review.
Part 5. Positive Personal Relationships.
Chapter 15. Preventing Relationship Vicious Cycles.
Executive Profile: Edward (Ed) Betof, Ph.D., Senior Fellow and Academic Director, Executive Program in Workplace Learning Leadership, Wharton Business School.
Nila Betof, COO, The Leader's Edge.
Chapter Summary.
Chapter 16. Maintaining Relationships: Minimums, Shifts and Drifts, Combining Activities.
Chapter Summary.
Conclusion.
See More
DR. MARTY SELDMAN is one of the world's most experienced and successful executive coaches. He is the author of five books and has designed impactful seminars like Organizational Savvy, Optimizing Differences, and Executive Stamina. Currently he is the President of Optimum Associates. For more information, contact www.optimumassociates.com.
JOSHUA SELDMAN is a highly respected cycling and fitness coach. During his professional athletic career, he was a twelve-hour and twenty-four-hour solo mountain bike champion. He was also a lead coach for Carmichael Training Systems and Lance Armstrong's Tour of Hope cross-country ride. He can be contacted at joshuaseldman@yahoo.com.
See More