Using Wikis for Online Collaboration: The Power of the Read-Write Web
ISBN: 978-0-470-34333-3
160 pages
November 2008, Jossey-Bass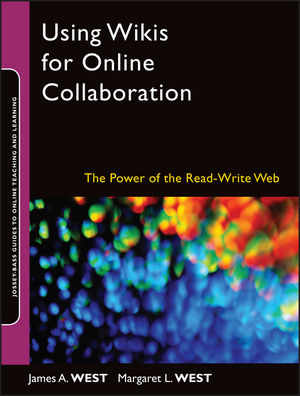 How can online instructors and course designers' instruction harness the popular Web 2.0 tool, the wiki, for successful collaboration and learning outcomes? This book focuses on using wikis in the active learning processes that are the hallmark of collaborative learning and constructivism. It provides both the pedagogical background and practical guidelines, tools, and processes for accomplishing these goals with special emphasis on wikis and other collaborative design tools. This book supports the effective design and delivery of online courses through the integration of collaborative writing and design activities.
See More
Preface xiii
About the Authors xvii
ONE Getting Ready to Wiki 1
Opportunities for Online Learning 2
What Is a Wiki? 3
Types of Wikis 6
Choosing the Right Wiki 9
Features of Wikis 10
Setting Up the Wiki 17
Summary 19
TWO Designing Wiki Projects for Collaborative Learning 21
Teaching and Learning Through Wikis 21
Laying the Foundation—Preparing Students for Wiki Work 22
Building the Framework—Designing the Wiki Project 31
Monitoring Construction—Managing the Wiki Process 45
Summary 57
THREE Wiki Projects for Knowledge Construction 59
Resource Bank 60
Frequently Asked Questions 62
Error Finding and Correcting 64
Historical Time Line 66
Annotated Bibliography 69
Online Dialogue 72
Group Summary 73
Class Encyclopedia 74
Summary 77
FOUR Wiki Projects for Critical Thinking 79
"What If . . . ?" Scenarios 80
Case Studies 82
Debates 85
Collaborative Research Papers 88
Evaluation or Research Study 90
Frame-Based Writing 93
Nominal Group Technique 95
Structured Online Critiques 98
Summary 100
FIVE Wiki Projects for Contextual Application 101
Event Plan 102
Process Map 104
Virtual Science Lab 109
Field Research Project 112
Story Creation 114
Team Challenge 115
Media Design Project 118
Service Learning Project 121
Summary 123
SIX Wikis Today and Tomorrow 125
The Value of Collaborative Writing 125
Integrating Wikis with Other Technologies 126
What the Future Holds 126
An Invitation to Collaborate 128
ADDITIONAL RESOURCES 129
Wikis for Educators 129
Web 2.0 129
Collaborative Writing 130
Scaffolding 130
Bloom's Taxonomy 130
References 131
Index 135
See More
THE AUTHORS
James A. West is an associate professor in the Department of Instructional Design and Technology, Western Illinois University. He has conducted extensive research in both graduate and undergraduate courses using wikis and Web 2.0.
Margaret L. West is the IT systems manager for the Center for Innovation in Teaching and Research at Western Illinois University. Her twenty-five-year career has included work in higher education, K–12, and the private sector.
See More
Learn more about