Teach Yourself VISUALLY Astronomy
ISBN: 978-0-470-34382-1
256 pages
December 2008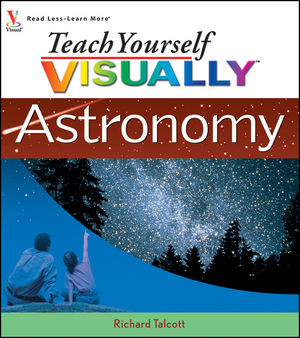 From dramatic lunar eclipses to brilliant comets, the night sky fascinates people. Brimming with beautiful color
photos, this book walks you through everything you need to know to maximize your enjoyment of astronomy, from choosing a telescope to identifying constellations and planets. Whether you're a student, hobbyist, or lifelong stargazer, you can turn to this book for practical guidance on observing stars, planets, moons, and galaxies; tracking meteors, comets, and eclipses; choosing tools for viewing; and photographing the skies. Helpful star maps, charts, and timetables bring the sky to life!
See More
Chapter 1: Introduction to the Sky.
Chapter 2: Choose the Right Equipment.
Chapter 3: View the Naked-Eye Sky.
Chapter 4: Explore the Winter Sky.
Chapter 5: Explore the Spring Sky.
Chapter 6: Explore the Summer Sky.
Chapter 7: Explore the Autumn Sky.
Chapter 8: Observe the Sun and Moon.
Chapter 9: Observe the Rest of the Solar System.
Chapter 10: Observe the Deep Sky.
Chapter 11: Record the Sky.
Appendix.
Index.
See More
Richard Talcott is a senior editor of Astronomy magazine, where he edits the popular
"Sky This Month" section and creates most of the magazine's star charts. He also produces calendars and contributes star maps and text to several well-known and respected publications. In collaboration with Joel Harris, Rich wrote the book Chasing the Shadow: An Observer's Guide to Eclipses.
See More