Amish Grace: How Forgiveness Transcended Tragedy
ISBN: 978-0-470-34404-0
288 pages
March 2010, Jossey-Bass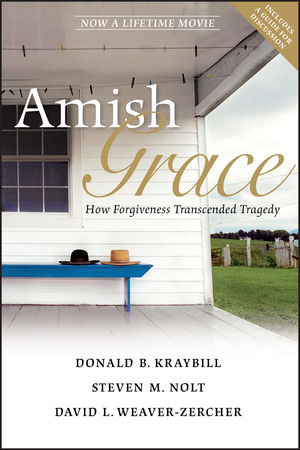 Praise for Amish Grace
"A story our polarized country needs to hear: It is still grace that saves."—Bill Moyers, Public Affairs Television
"In a world where repaying evil with evil is almost second nature, the Amish remind us there's a better way. In plain and beautiful prose, Amish Grace recounts the Amish witness and connects it to the heart of their spirituality."—Sister Helen Prejean, author, Dead Man Walking
"Faced with the notorious Amish aversion to publicity, reporter after reporter turned to the authors...to answer one question: How could the Nickel Mines Amish so readily, so completely, forgive? While the text provides a detailed account of the tragedy, its beauty lies in its discovery of forgiveness as the crux of Amish culture. Never preachy or treacly, it suggests a larger meditation more than apt in our time."—Philadelphia Magazine
"This balanced presentation . . .blends history, current evaluation of American society, and an examination of what builds community into a seamless story that details the shootings while it probes the religious beliefs that led to such quick forgiving. Recommended." —Library Journal
"Professors Kraybill, Nolt, and Weaver-Zercher have written a superb book—a model of clear, forceful writing about a tragedy and its aftermath. They have an obvious affection for the Amish yet ask tough questions, weigh contradictions, and explore conundrums such as how a loving God could permit schoolgirls to be massacred." —National Catholic Reporter
See More
Preface.
Part One.
1 The Nickel Mines Amish.
2 The Shooting.
3 The Aftermath.
4 The Surprise.
5 The Reactions.
Part Two.
6 The Habit of Forgiveness.
7 The Roots of Forgiveness.
8 The Spirituality of Forgiveness.
9 The Practice of Forgiveness.
Part Three.
10 Forgiveness at Nickel Mines.
11 What About Shunning?
12 Grief, Providence, and Justice.
13 Amish Grace and the Rest of Us.
Afterword (2010).
Interview with Terri Roberts.
Appendix: The Amish of North America.
Endnotes.
Resources for Further Reading.
Acknowledgments.
The Authors.
Index.
Discussion and Reflection Guide.
The Fetzer Institute.
See More
March 01, 2010
AMISH GRACE: How Forgiveness Transcended Tragedy
Connect with Wiley Publicity
The Amish response to the murders of five schoolgirls in Nickel Mines, PA in October 2006 was even more surprising than the intrusion of evil into bucolic Lancaster County. Just hours after the shootings, the community forgave killer Charles Roberts and reached out to his widow, attending his burial and contributing to a fund for the family.
Within a week of the murders, Amish forgiveness was a central theme in news stories around the world. The astonishing account was soon chronicled in an award-winning, best-selling book in 2007 that Bill Moyers called "a story our polarized country needs to hear."
Now the basis for a Lifetime Original movie set to premier on March 28th, the paperback edition of AMISH GRACE: How Forgiveness Transcended Tragedy (Jossey-Bass, a Wiley imprint; March 2010; $16.95 / Paper; ISBN: 978-0-470-34404-0), from Donald B. Kraybill, Steven M. Nolt, and David L. Weaver-Zercher, includes a surprising interview with the shooter's mother in the new afterword. In addition, a discussion and study guide helps readers explores the history, theology and culture of the Amish, connecting forgiveness to their entire way of life.
The Amish response to the Nickel Mines killings offered new insights into the possibilities and practices of forgiveness, even in the face of tragic and horrific human events. "Perhaps our real human need is to find ways to move beyond tragedy with a sense of healing and hope," the authors wrote. "What we learn from the Amish, both at Nickel Mines and more generally, is that how we choose to move on from tragic injustice is culturally formed."
"Regardless of the details of the Nickel Mines story one message rings clear: religion was not used to justify rage and revenge but to inspire goodness, forgiveness and grace," the authors conclude. "And that is the big lesson for the rest of us regardless of our faith or nationality."
See More