The God of Intimacy and Action: Reconnecting Ancient Spiritual Practices, Evangelism, and Justice
ISBN: 978-0-470-34521-4
272 pages
September 2008, Jossey-Bass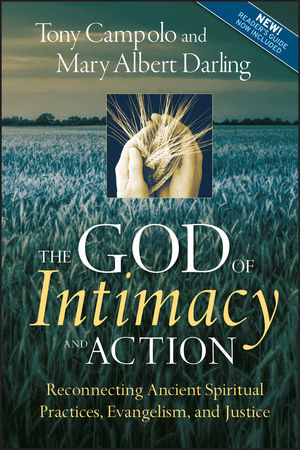 Praise for
The God of Intimacy and Action
"Tony Campolo...and Mary Darling...are like gunpowder and a spark. The result is a dynamite book that many have been waiting a long time for."
—Relevant Magazine
"In 25 years, when we look back as journalists chronicling this era of religious reawakening—this book likely will turn up as a classic....This book is both a manifesto—and a sturdy guidebook—for the journey of reclaiming much that has been lost."
—David Crumm, founder of Read the Spirit
"Tony Campolo and Mary Darling...are two first rate minds grappling with classical and contemporary theology, and then adding to that a set of concrete practices...The Network of Spiritual Progressives (including those of us who are not Christian) can draw much wisdom and guidance from this book."
—Tikkun Magazine
"I know both Tony and Mary personally and can testify to the genuineness of their search for spiritual wholeness. It is a search that always holds in creative tension a profound intimacy with God through Christ with a vigorous engagement in the social realities of our day."
—Richard J. Foster, author of Celebration of Discipline
"Darling and Campolo sift through the dirt of Christendom and uncover the precious treasures of our faith."
—Shane Claiborne, founding member of The Simple Way community; author of The Irresistible Revolution; and recovering sinner
See More
Acknowledgments.
An Introduction to Mystical Christianity.
PART ONE: Knowing God Intimately: Where Christian Mysticism Can Take Us (Tony Campolo).
1 What Mystical Christianity Is All About.
2 Christian Mysticism and Personal Evangelism.
3 Christian Mysticism and Working for Justice.
PART TWO: Fueling Intimacy: The Mystical Path (Mary Albert Darling).
4 Awakening to Mysticism and a Holistic Gospel (Even If You're Not a Monk).
5 Cultivating Holy Habits.
6 Moving from Self-Awareness to God-Awareness: The Prayer of Examen.
7 Becoming God's Friend: Lectio Divina.
8 Deepening Our Intimacy with God: Centering Prayer.
9 Committing to a Holistic Gospel.
PART THREE: Taking Intimacy with God into the World (Mary Albert Darling and Tony Campolo).
10 Avoiding Two Temptations.
11 Connecting Intimacy and Action.
Postscript.
Notes.
The Authors.
Index.
See More
Tony Campolo
is professor emeritus of sociology at Eastern University. Previously he served for ten years on the faculty of the University of Pennsylvania. Dr. Campolo is a media commentator on religious, social and political matters, and hosts the popular radio show From Across the Pond in England.
Mary Albert Darling, associate professor of communication at Spring Arbor University, is a Protestant who has been trained in spiritual direction in the Jesuit tradition.
See More