Nonprofit Governance: Law, Practices, and Trends
ISBN: 978-0-470-35804-7
Hardcover
259 pages
June 2009
US $80.00

Add to Cart
This price is valid for United States. Change location to view local pricing and availability.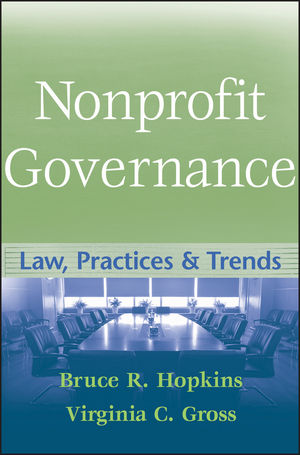 Other Available Formats:
E-book
Book Citations.
Preface.
Chapter One: Federal and State Law Fundamentals.
1.1 State Law Overview.
1.2 Formation of Organization.
1.3 Board of Directors Basics.
1.4 Principles of Fiduciary Responsibility.
1.5 Duties of Directors.
1.6 Board Composition and Federal Tax Law.
Chapter Two: Board Members: Responsibilities and Liability.
2.1 Board of Directors Governance Principles.
2.2 Role of Officers.
2.3 Key Employees.
2.4 Management Companies.
2.5 Board Member Responsibilities.
2.6 Protections against Personal Liability.
2.7 Minimizing Board Member Legal Liability.
Chapter Three: Nonprofit Organizations Governance Principles.
3.1 Governance Philosophy in General.
3.2 Sarbanes-Oxley Act.
3.3 Watchdog Agencies' Standards.
3.4 California's Nonprofit Integrity Act.
3.5 Senate Finance Committee Staff Paper.
3.6 U.S. Treasury Department's Voluntary Best Practices.
3.7 Committee for Purchase Proposed Best Practices.
3.8 Panel on Nonprofit Sector Recommendations.
3.9 Boards of Exempt Credit Counseling Organizations.
3.10 Draft of IRS Good Governance Principles.
3.11 American National Red Cross Governance Modernization Act Principles.
3.12 Panel on Nonprofit Sector Good Governance Principles.
3.13 Redesigned IRS Annual Information Return (Form 990).
3.14 IRS LifeCycle Educational Tool Principles.
3.15 Commentary.
Chapter Four: Governance and the Redesigned Form 990.
4.1 Governing Body and Management.
4.2 Policies.
4.3 Disclosure.
Chapter Five: Nonprofit Governance Issues.
5.1 Perspectives on Nonprofit Governance.
5.2 Governing Board Size.
5.3 Governing Board Composition.
5.4 Role of Governing Board.
5.5 Organization Effectiveness and Evaluation.
5.6 Board Effectiveness and Evaluation.
5.7 Frequency of Board Meetings.
5.8 Term Limits.
5.9 Board Member Compensation.
5.10 Audit Committees.
5.11 Other Committees.
5.12 Compliance with Law.
5.13 Categories of Expenditures.
5.14 Disclosures to Public.
5.15 Mission Statements.
5.16 Codes of Ethics.
5.17 Conflict-of-Interest Policies.
5.18 Whistleblower Policies.
5.19 Document Retention and Destruction Policies.
5.20 Fundraising Practices.
5.21 Role of IRS in Governance.
Chapter Six: Policies and Procedures for Good Governance.
6.1 Sources of Policies.
6.2 IRS Focus on Policies and Procedures.
6.3 Discussion of Specific Policies and Procedures.
6.4 Colleges and Universities.
6.5 Other Policies.
Chapter Seven: Nonprofits in the Spotlight:  Governance Case Studies.
7.1 The American National Red Cross.
7.2 The Smithsonian Institution.
7.3 American University.
7.4 J. Paul Getty Trust.
7.5 University-Affiliated Medical Centers.
7.6 Lessons Learned.
Chapter Eight: Law for Nonprofit Board Members: A Primer.
8.1 Nonprofit Organizations.
8.2 Tax-Exempt Organizations.
8.3 Categories of Tax-Exempt Organizations.
8.4 Tax-Exempt Organizations Law Basics.
8.5 Legislative Activities Law.
8.6 Political Activities Law.
8.7 Public Charities and Private Foundations.
8.8 Reporting Rules.
8.9 Disclosure Rules.
8.10 Unrelated Business Rules.
8.11 Subsidiaries.
8.12 Joint Ventures.
8.13 Other Aspects of Law of Exempt Organizations.
8.14 Charitable Giving Rules.
8.15 Federal Law as to Fundraising.
8.16 State Fundraising Law.
8.17 IRS Audits.
8.18 Bankruptcy.
Chapter Nine: Governance Legal Audit.
9.1 Inventory of Basics.
9.2 Governance.
9.3 Policies and Procedures.
9.4 External Relationships.
9.5 Tax-Exempt Status.
9.6 Private Inurement Doctrine.
9.7 Private Benefit Doctrine.
9.8 Excess Benefit Transactions.
9.9 Self-Dealing Rules.
9.10 Actions by Organization.
9.11 Public Charity Classification.
9.12 Private Foundation Rules.
9.13 Donor-Advised Funds.
9.14 Endowment and Other Funds.
9.15 Legislative Activities.
9.16 Political Campaign Activities.
9.17 Other Forms of Advocacy.
9.18 Subsidiaries.
9.19 Bifurcation Basics.
9.20 Tax-Exempt Subsidiaries.
9.21 Taxable Subsidiaries.
9.22 Revenue from Subsidiary.
9.23 Joint Venture Basics.
9.24 Joint Ventures—Other Elements.
9.25  Unrelated Business Analysis.
9.26 Commerciality Doctrine.
9.27 Annual Information Returns.
9.28 Disclosure Requirements.
9.29 Considerations for Lawyer Conducting Legal Audit.
Index.