E-book
Teach Yourself VISUALLY MacBook
ISBN: 978-0-470-37048-3
383 pages
March 2008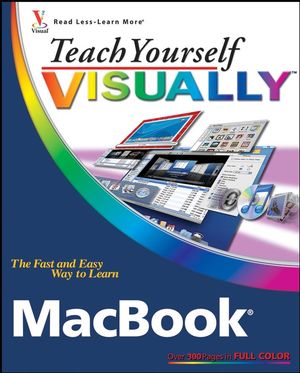 If you prefer instructions that show you how to do something and skip the long-winded explanations, then this book is for you. You ll find clear, step-by-step screen shots that show you how to tackle more than 160 MacBook tasks. Each task-based spread includes easy, visual directions for performing necessary operations, including using the Dock and Dashboard, managing Exposť and Spaces, video chatting with iChat, and creating albums and photos in iPhoto. Full-color screen shots demonstrate each task so that you can get started using your MacBook today.
See More
Chapter 1: Explore the MacBook.
Tour MacBook.
Start Up and Log In.
Explore the Mac OS X Desktop.
Point and Click, Double-click, or Right-click.
Understand Disks, Volumes, Discs, Folders, and Files.
Sleep, Log Out, Restart, or Shut Down.
Chapter 2: Look Through Mac OS X Finder Windows.
Understand Finder, Application, and Document Windows.
Open, View, and Scroll in Windows.
Minimize, Resize, Move, or Close Windows.
View Finder Windows in Icon View.
View Finder Windows in List View.
View Finder Windows in Column View.
View Finder Windows in Cover Flow View.
Configure the Sidebar.
Use the Action Pop-up Menu and Quick Look.
Configure the Finder Window Toolbar.
Chapter 3: Manage the Desktop with the Dock, Exposé, Spaces, and the Dashboard.
Explore the Dock, Exposé, Spaces, and the Dashboard.
Use and Configure the Dock.
Manage Open Windows with Exposé.
Create and Use Desktop Spaces.
Use and Configure the Dashboard.
Chapter 4: Work on the Mac Desktop.
Go Places.
Return to Where You Have Been Before.
Open Files and Folders.
Move or Copy Folders and Files.
Create Folders.
Create Smart Folders.
Rename Files and Folders.
Compress Files and Folders.
Delete Files and Folders.
Eject Disks and Discs.
Find Files, Folders, and Other Information.
Get Information about Files and Folders.
Burn a CD or DVD.
Chapter 5: Work with Mac Applications.
Understand Applications.
Install Applications.
Launch and Control Applications.
Remove Applications.
Save Documents.
Chapter 6: Personalize Your MacBook.
Set Finder Preferences.
Explore the System Preferences Application.
Change the Desktop's Appearance.
Set a Desktop Picture.
Choose a Screen Saver.
Save Energy.
Configure MacBook's Screen.
Configure the Keyboard and Trackpad.
Control MacBook's Sound.
Create and Configure User Accounts.
Set Login Options.
Set and Configure MacBook's Clock.
Protect Users with Parental Controls.
Chapter 7: Connect to a Network and the Internet.
Understand Networking Concepts.
Obtain an Internet Account.
Set Up a Local Network.
Protect MacBook from Internet Attacks.
Connect to the Internet with Ethernet.
Connect to the Internet with AirPort.
Share Files on a Local Network.
Troubleshoot an Internet Connection.
Chapter 8: Surf the Web.
Explore Safari.
Move to Web Sites.
Search the Web.
Download Files.
Browse the Web with Tabs.
Set and Organize Bookmarks.
Open Several Web Pages at the Same Time.
Watch Movies on the Web.
Use AutoFill to Quickly Complete Web Forms.
Create Your Own Web Widget .
Save or E-mail Web Pages.
Set Safari Preferences.
Chapter 9: E-mail.
Explore Mail.
Set Up E-mail Accounts.
Read and Reply to E-mail.
Send E-mail.
Work with Files Attached to E-mail.
Attach Files to E-mail.
Organize E-mail.
Search E-mail.
Avoid Spam.
Create and Use E-mail Signatures.
Create E-mail Rules.
Set Mail Preferences.
Chapter 10: Use .Mac.
Explore .Mac.
Obtain and Configure a .Mac Account.
Use an iDisk.
Use .Mac Webmail.
Publish a .Mac Web Site.
Synchronize Bookmarks, Contacts, and Calendars among Multiple Macs.
Chapter 11: Listen to Music and Watch Video with iTunes.
Explore iTunes.
Understand the iTunes Library.
Browse or Search for iTunes Content.
Browse the Library with Cover Flow View.
Browse the Library with Group View.
Listen to Audio Content.
Watch Video Content.
Add Audio CDs to the iTunes Library.
Explore the iTunes Store.
Obtain and Log Into an iTunes Store Account.
Buy Music, TV, Movies, and More from the iTunes Store.
Subscribe to Podcasts.
Create a Standard Playlist.
Create a Smart Playlist.
Burn a CD or DVD.
Chapter 12: Create Photo Books and Other Projects with iPhoto.
Explore iPhoto.
Import Photos from a Digital Camera.244
Browse and Search the iPhoto Library.246
Label Photos.
Edit Photos.
Organize a Photo Book.s Photos in an Album.
Create a Photo Book.
Lay Out a Photo Book.
Edit a Photo Book.
Configure a Photo Book.s Settings.
Print a Photo Book.
Chapter 13: Chat.
Explore iChat.
Configure an iChat Account.
Chat with Text.
Chat with Audio.
Chat with Video.
Share MacBook's Desktop.
Chapter 14: Manage Contacts.
The Address Book Window.
Understand Address Book.
Add a Contact Manually.
Work with vCards.
Find Contact Information.
Create an Address Group.
Use Address Cards and Groups.
Change or Delete Address Cards or Groups.
Chapter 15: Manage Calendars.
Explore iCal.
Add a Calendar.
Add an Event to a Calendar.
Add a To Do Item to a Calendar.
Publish Calendars.
Subscribe to Calendars.
Configure iCal Preferences.
Chapter 16: Print on Paper or Electronically.
Understand Printers.
Install and Configure a USB Printer.
Install and Configure a Networked Printer.
Share a Printer.
Connect to a Printer Wirelessly.
Print to PDF.
Chapter 17: Travel with a MacBook.
Connect to the Internet while Traveling.
Manage MacBook.s Power.
Protect MacBook's Data with FileVault.
Protect MacBook with System Security.
Protect MacBook with Its Firewall.
Synchronize Files with Other Computers.
Chapter 18: Connect a MacBook to Other Devices.
Expand Storage Space with an External Hard Drive.
Connect and Use an External Display.
Connect and Use a Bluetooth Mouse.
Connect and Use External Speakers.
Synchronize a MacBook with an iPhone.
Chapter 19: Maintain and Troubleshoot MacBook.
Keep MacBook's Apple Software Current.
Maintain and Update Third-Party Applications.
Profile MacBook.
Monitor MacBook's Activity.
Maintain MacBook's Hard Drive.
Use Time Machine to Back Up MacBook.
Restore Files with Time Machine.
Troubleshoot and Solve MacBook Problems.
Capture a Screenshot.
Get Help with MacBook Problems.
See More
Brad Miser has written more than 25 books, his favorite topics being anything related to Mac computers or products starting with "i," such as iTunes, iPhones, and iPods. In addition to Teach Yourself Visually MacBook, Brad has written My iPhone, Absolute Beginner's Guide to iPod and iTunes; Sleeping with the Enemy: Running Windows on a Mac; and Special Edition Using Mac OS X, v10.5 Leopard. He has also been a co-author, development editor, or technical editor on more than 50 other titles.
In addition to his passion for silicon-based technology, Brad enjoys steel-based technology and rides his motorcycle whenever and wherever possible. A native of California, Brad now lives in Indiana with his wife Amy; their three daughters, Jill, Emily, and Grace; and a rabbit named Bun-Bun.
Brad would love to hear about your experiences with this book (the good, the bad, and the ugly). You can write to him at bradmacosx@mac.com.
See More