The 2009 Pfeiffer Annual: Training
ISBN: 978-0-470-37142-8
336 pages
December 2008, Pfeiffer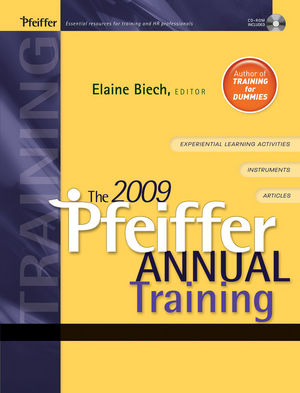 The 2009 Pfeiffer Annual: Training offers a hands-on guide to the latest thinking and recent approaches to training and development. This year's Annual presents a "talent management" theme. The contributors address the keen competition organizations face in acquiring and retaining talented people. The Annual is divided into four sections: Experiential Learning Activities (ELAs); Editor's Choice; Inventories, Questionnaires, and Surveys; and Articles and Discussion Resources. The fourth section, Editor's Choice, includes cutting edge material that doesn't quite fit the other sections.
See More
Preface.
The Difference Between Training and Consulting: Which Annual to Use?
Introduction to The 2009 Pfeiffer Annual: Training.
Experiential Learning Activities.
Introduction to the Experiential Learning Activities.
Experiential Learning Activities Categories.
**Popular Choices: Discovering Workplace Generational Diversity (Dennis E. Gilbert).
**Humanity Training: Exploring Stereotyping (M.K. Key)..
What I Like About My Job or Career: Using an Appreciative Approach (Marty C. Yopp and Michael Kroth).
**First Impressions: Interviewing (Peter R. Garber).
The Challenge: Sculpting Communication (Devora Zack).
Rope Trick: Solving the Unsolvable (Richard T. Whelan).
**Talent Management Topics.
Posters: Looking at What You Already Know (Dawn J. Mahoney).
Hidden Agenda: Learning the Benefits of Cooperation (Lorraine L. Ukens).
Incredible Ball Pass: Integrating the Team (Ronald Roberts).
23, What Do You See? Experiencing Energizers (Dave Arch).
From Mundane to Ah Ha! Using Training Objects (Linda S. Eck Mills).
The Real Focus: Strategizing Leadership Behavior (Mohandas Nair).
Signs of Change: Identifying and Overcoming Roadblocks (Travis L. Russ).
Editor's Choice.
Introduction to the Editor's Choice Section.
The Corporate University Phenomenon: A Look Ahead (Mark Allen).
Twenty-One Questions to Ask Before Designing Any Training Program: The Sixty-Minute Needs Analysis (Nanette Miner).
Inventories, Questionnaires, and Surveys.
Introduction to the Inventories, Questionnaires, and Surveys Section.
Vulnerability to Fraud Survey (H.B. Karp and Jonathan D. Taylor).
Change Readiness Checklist (Sherene Zolno).
New Organizational Role Stress (NORS) Scale (Avinash Kumar Srivastav).
Articles and Discussion Resources.
Introduction to the Articles and Discussion Resources Section.
Try Feedforward Instead of Feedback (Marshall Goldsmith).
Sink or Swim: Surviving the Leadership and Organizational Challenges Caused by the Rapid Advances in Information Technology (William J. Shirey).
**Cognitive Task Analysis and Its Applications in Talent Management (Yusra Visser and Ryan Watkins).
Simulation Stimulation: The Rise of Rank-Ordered, Consensus-Building Simulations (Lorraine L. Ukens and Alan Richter).
The ADDIE Training Intervention Model and the Organization's Major Functions: An Experiential Learning Strategy (Christopher A. Chaves).
Best If Used by . . . or a Systematic Approach to Maintaining Training Materials (Marilyn Martin).
**Where Does Training Report in the Organization? (Jean Barbazette).
Does Informal Learning Make Business Sense? (Jay Cross).
Making the Training Content Come Alive: Ten Types of Training Activities (Sivasailam "Thiagi" Thiagarajan).
**Linking Learning Strategy to the Balanced Scorecard (Ajay M. Pangarkar and Teresa Kirkwood).
**How Leaders Think: Developing Effective Leadership (Homer H. Johnson).
Leadership Development: The Value of Face-to-Face Training (Barbara Pate Glacel).
**The Importance of Organizational Culture in a World of Change: Building Your Leadership Team of the Future(Richard T. Rees, Allen C. Minor, and Paul S. Gionfriddo).
Contents of the Companion Volume, The 2009 Pfeiffer Annual: Consulting.
How to Use the CD-ROM.
See More
Elaine Biech is president and managing principal of ebb associates inc, an organizational development firm that helps organizations work through large-scale change. Biech has been in the training and consulting field for thirty years and is the author and editor of four dozen books and articles, including Pfeiffer Annuals of Training and Consulting, 90 World-Class Activities by 90 World-Class Trainers, Training for Dummies, The Business of Consulting, Second Edition, and Marketing and Selling Your Consulting Services all published by Wiley. Biech is the recipient of ASTD's highest honor, the Gordon M. Bliss award.
See More