The 2009 Pfeiffer Annual: Leadership Development
ISBN: 978-0-470-37144-2
368 pages
March 2009, Pfeiffer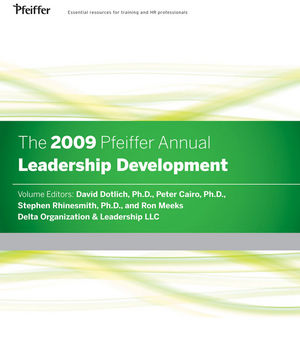 Leadership development continues to be a top concern for most organizations. The third Pfeiffer Annual of Leadership Development has arrived! This year, four editors have brought together some of the best minds in the leadership world to reflect on four distinct topics: Leading in a Global World, Convergence and Collaboration & Risk and Innovation, and The Customer-Connected Leader.
See More
Acknowledgments.
Introduction to The 2009 Pfeiffer Annual: Leadership Development.
SECTION ONE: LEADING IN A GLOBAL WORLD.
Introduction to the Leading in a Global World Section (Stephen H. Rhinesmith).
New Leadership Challenges and Skills in a Changing World (Michael J. Marquardt).
Leading in Emerging vs. Mature Markets: Positional and Dynamic Leadership (Sergei R. Filonovich).
How Are Global Leaders Different from Local Leaders? (Terence Brake).
A Credo-Driven Approach to Global Growth Through People: The Case of Doosan (David H. Jackson and Andrew Geller).
The Role of Regional Coordinator (Agnieszka Romanczuk).

Key Criteria for Leading Global Account Teams (Virginia McLaughlin and Patricia A. Milligan).
Managing Global Teams: An Asian Perspective (Atsushi Funakawa).
Developing Global Executives: Today and Tomorrow (Yury Boshyk).
SECTION TWO: CONVERGENCE AND COLLABORATION, RISK AND INNOVATION.
Introduction to the Convergence and Collaboration, Risk and Innovation Section (David L. Dotlich and Ron Meeks).
Using Change to Increase Organization and Leadership Effectiveness : Strategies for Managing Change in Global Organizations (Steve Cunanan).
Talent Strategies for Collaboration and Convergence During a Merger or Acquisition (Jim Shanley).
Leadership That Creates Connections Across a Large, International Bank (Brian Fishel).
Using a Re-Organization to Test and Grow High-Potential Leaders (Gregory Kesler and Amy Kates).
Defl ection Versus Delegation for Future Leadership Effectiveness (Michael G. Hansen).
Convergence and Innovation (Harlan F. Weisman).
How You Innovate Is What You Innovate: A Systematic Approach to Effectively Leading Enterprise Innovation (Jeff DeGraff).
Leadership 2.0: The Practice of Leading Live (Hartmut Stuelten).

SECTION THREE: THE CUSTOMER CONNECTED LEADER.
Introduction to the Customer Connected Leader Section (Peter C. Cairo and Robert Stringer).
Leading for Loyalty (Robert Stringer and Thomas M. Cates).
Embracing the Voice of the Customer: The Transformational Power of Listening (Manila Austin).
Early Warnings of a Pending Disruption in an Existing Business Model: A Leader's Responsibility(Rita Gunther McGrath).
Developing Leaders and Teams That Build Exceptional Client Relationships (Michael J. Fenlon).
Strengthening a Consumer-Centric Culture at Colgate-Palmolive (Daniel Marsili).
Customer Care: The Leader's Role at Time Warner Cable (Diane Blackwood).
Hearing the Voice of the Customer in the Boardroom (Robert Stringer).
Engaging Millennials: Generational Challenges (Carole France).
The Road Ahead for Leadership Development (David L. Dotlich, Peter C. Cairo, Stephen H. Rhinesmith, and Ron Meeks).
Contributors.
About the Editors.
Pfeiffer Publications Guide.
See More
David Dotlich, Peter Cairo, Stephen Rhinesmith, and Ron Meeks (Editors) are Senior Partners with Delta Organization & Leadership LLC, which provides a unique combination of consulting services and customized programs to help CEOs and other senior leaders transform individual and organizational capabilities in ways that will enable them to compete, to succeed, and to grow. Dotlich, Cairo, and Rhinesmith are the Founders of Executive Learning Center, a unit of Delta Organization & Leadership LLC, which designs and delivers senior executive learning programs.
See More